About
About the Programme
The IoD Chartered Director Programme offers a formalised qualification for directors and strategic business leaders, and ensures they have the most up to date learnings for the role and responsibilities of being a director. It is the gold standard of director training, and IoD is the only body in Ireland that provides the full designation and recognition as a professional Chartered Director (CDir). By joining the programme, participants can build relationships with peer business and public service leaders in Ireland.
Process
Steps to Becoming Chartered
Step 1 - Expression of Interest
All potential applicants must first complete an Expression of Interest Form to note their interest in the Programme. Please note that completion of an Expression of Interest Form does not guarantee a place on the Programme, nor does it place any obligation on the applicant to accept a place on the Programme.

Following receipt of the Expression of Interest Form, applicants will be contacted by a member of the IoD Ireland Training Team to process your application. This completes the process and the applicant will be added to the waiting list.
Once a cohort programme is open, all applicants on the waiting list will be notified with the opportunity to accept a place. Place offers are made on a first come basis. Confirmation of a place can only made on an applicant returning a booking form and paying the deposit.
Step 2 - Certificate in Company Direction
Once an applicant has been accepted on to a cohort, the first aspect of the programme they will complete is the Certificate in Company Direction.

Modules in the Certificate in Company Direction
There are four module subjects in the Certificate in Company Direction. The modules include:
1. Role of the Director and Board (international)
(2 days' duration)
2. Strategy for Directors (3 days' duration)
3. Finance for Directors (3 days' duration)
4. Leadership for Directors (2 days' duration)

Benefits of the Certificate in Company Direction
The Certificate in Company Direction encompasses the core knowledge and awareness that is necessary to function effectively as a director and provides:
• An in-depth view of the role, responsibilities, and duties of a director
• An understanding of the characteristics of an effective board
• Sound knowledge of financial terms and concepts
• An understanding of the issues and processes associated with formulating strategic plans and demonstrating strategic leadership.

For more information on the benefits, module, time commitment and location click on the below learn more button.
Step 3 - Diploma in Company Direction
The Diploma in Company Direction builds on the technical knowledge gained in the Certificate syllabus and enables participants to contextualise and apply their knowledge and build their practical skills as Directors. The Diploma in Company DIrection can only be undertaken following the successful completion of the Certificate in Company Direction exams. 

Module: Developing Board Performance
This two-day interactive module, entitled 'Developing Board Performance', requires participants to act as board members through role-play, which focuses on the activities involved in running an effective organisation and dealing with a variety of challenges and crises at board level. Participants will challenge and utilise the skills gained from their experience as directors and business leaders in an applied and dynamic way.
Benefits of the Diploma in Company Direction
The Diploma in Company Direction builds on the Certificate, and provides:
• An understanding of your board's role, its dynamic, power, influence and conflicts
• Knowledge of important topics: risk and crisis management, decision-making, mergers and acquisitions, and board performance
• An understanding of relevant techniques and tools to improve personal skills and that of the board
• An opportunity to improve the performance of your board, its committees and individual directors.
For more information on the benefits, module, time commitment and location click on the below learn more button.
Step 4 - Becoming a Chartered Director - (Professional Review Process)
Having successfully completed the Certificate and Diploma exams, Programme participants may apply to become a Chartered Director (CDir). To attain Chartered Director accreditation, a candidate must complete a Professional Review Process, which begins with the application to assess eligibility.

Benefits of Becoming Chartered
A commitment to achieving Chartered Director status is a clear message to your colleagues, customers and network that you are serious about your role and the contributions you make to your organisation. Becoming a Chartered Director is an endorsement of your skills, professionalism, and knowledge of corporate governance best-practice.

Chartered Directors demonstrate continuous commitment and ongoing professional development to maintain the level of effectiveness and practitioner excellence that exemplifies Chartered status and an outstanding contribution to their boards and organisations.

For more information on the eligibility criteria, review process and fees involved click on the below learn more button.
Dates & Fees
Current Dates & Fees
The Chartered Director Programme has two commencement points in each calendar year, January and September.
Learn More
The costs for the Chartered Director Programme (including both the Certificate and the Diploma in Company Direction) are:
Members
€14,495
(For 2023 Programmes)
Non Members
€14,990
(For 2023 Programmes)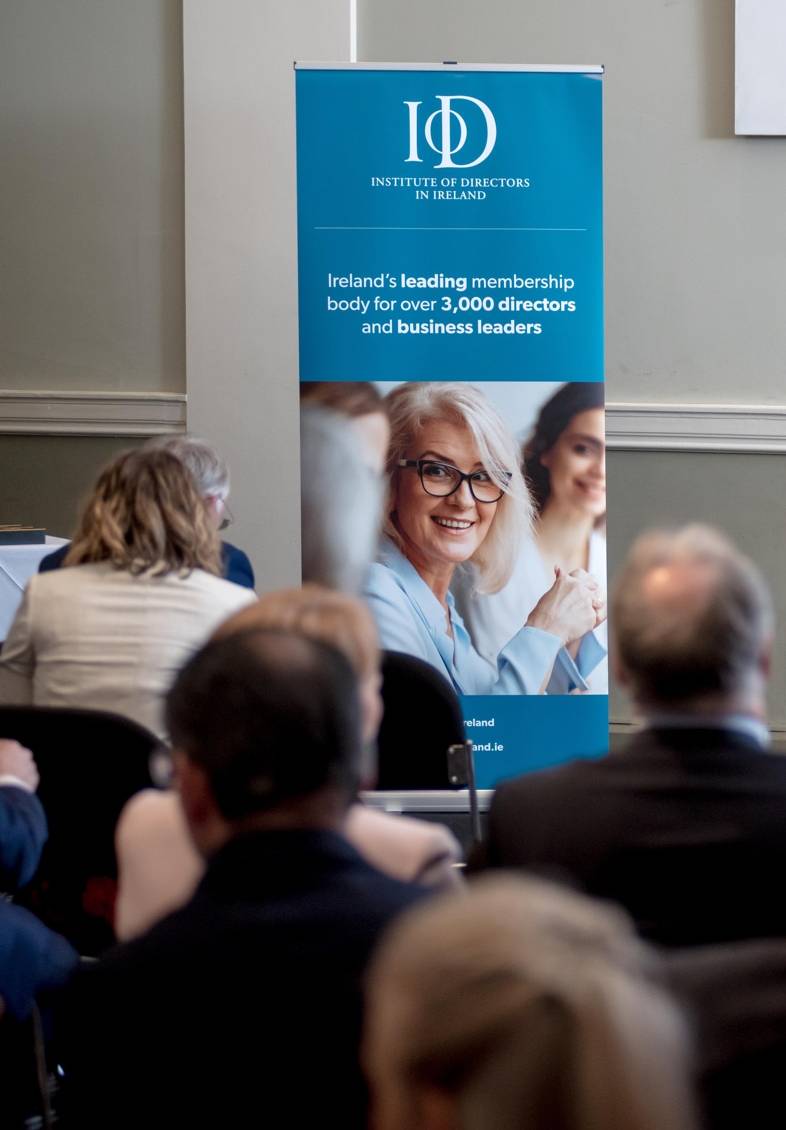 IoD Ireland Chartered Director Team
Programme Director and Course Leaders
The IoD Ireland Chartered Director Programme is led by a team of senior and highly qualified corporate governance experts, inclusive of the Programme Director Eileen Gleeson CDir, and course leaders such as Professor Simon Haslam CDir, Carol Bolger CDir, Dr Deborah Benson, and Marie Collins CDir.
View course leaders
What chartered director participants say
Excellent course, really useful and interesting content, well-structured and professionally delivered.
The Chartered Director Programme provides a deep and meaningful exposure to the complex area of being a director in modern times.
The Chartered Director Programme content was entirely relevant to any executive and non-executive leadership role.
This is an excellent learning experience which I highly recommend. The Chartered Director Programme is of a very high quality, with supportive leadership, management, delivery and content. The peer to peer learning is also hugely beneficial.
I would highly recommend the IoD Chartered Directors Programme to anyone aspiring to become a competent and qualified Company Director.
The Chartered Director programme is an incredibly educational and comprehensive course that should be on the to-do list of any company director. It is one of the best things I have done for my career, and I only wish I had done it years ago!
An excellent course - would definitely recommend it. All of the IoD staff were superb with huge personal director experience which adds greatly to the teaching. Superbly run by Eileen - incredibly smooth and excellent exam prep days. Group work was so valuable - all of our cohort participated really well and I learned a huge amount from their experiences and expertise also.
What I enjoyed most about the IoD Chartered Director Programme was working with a group of peers and experienced lecturers. We got the opportunity to look at some real life problems and propose solutions and we were also able to benchmark ourselves against one another.
The best professional development programme I have undertaken. The programme provided the tools and techniques to help me approach business problems, ambiguities and opportunities in a more holistic and creative way.
I chose to do the Chartered Director Programme because I've recently been appointed to a board and I felt that the more formal training would complement me for my role as part of that Board. I would recommend the Chartered Programme to others, particularly those who are coming to a board for the first time, I think the detail within the programme will give them extra confidence, particularly if they're not from a financial background.
Found the IoD Chartered Programme course to be informative, interesting, interactive, challenging, and more importantly it was enjoyable with the diversity of people involved in my Cohort.
I loved the programme, it was well structured and well delivered with super support for people like me who are trying to fit this into a full time job. Although I am already on a number of boards, I learned a lot, and would say I am much better prepared for the future as a result of this.
The IoD Chartered Director programme is a 'must do' for iNED's or people considering a board career. The course addresses the full 360 skillset required to be effective in the boardroom. The practical nature of the Diploma exam is exemplary.
High standards of governance is now an essential requirement for all publicly funded bodies. In order to build on my previous board experience I really wanted to ensure I could meet and exceed the standards required for the organisations I work for. I benefited greatly from the expert tuition and group inputs. I now feel more confident that I am up to date with all the current developments in this area and have reached an externally benchmarked standard which is important in terms of building further opportunities for me with regard to my career. I want to thank all at the IoD for their support in achieving that.
Registered Chartered Directors
The full list of IoD Ireland members who are registered Chartered Directors is available to view by clicking the below button.