IoD Ireland has developed a Continuing Professional Development (CPD) Framework for Directors to empower directors to respond to the ever-evolving policy, regulatory, macro-economic and governance environment in which they operate.
Vision of the Framework
The IoD Ireland Continuing Professional Development (CPD) Framework for Directors is designed for use by individual directors, senior executives and boards as a whole with the underpinning ideology of collective board strength and responsibility.

IoD Ireland, as the representative professional body for directors in Ireland, wants to support directors and boards to respond to their internal and external environment so they can best serve their companies. The Framework will act as an enabler for individual directors and boards in identifying the necessary skills and learnings needed to direct and control their company, and support with board succession planning and development.
The IoD Ireland CPD Framework for Directors was created by collating IoD Ireland's knowledge and experience of corporate governance best practice along with input from members and senior business executives as well as evidential learnings from research undertaken by IoD Ireland.
The underlining objective of the Framework is to assist in our vision of making Ireland an exemplar of corporate governance. This Framework will enable the delivery of best-in-class executive education, as well as feeding into our membership supports (such as events, and member resources), and our research, policy and advocacy work. Finally, it is an empowering resource for our members and their boards in relation to skills assessment, succession planning and board development.
IoD Ireland CPD Framework For Directors
IoD Ireland is committed to supporting directors and boards in leveraging the CPD Framework through the delivery of best-in-class executive education. In addition to its flagship Chartered Director Programme*, which is mapped to the IoD Ireland CPD Framework for Directors, IoD Ireland has designed a suite of short programmes and workshops which are mapped to the specific competencies within the CPD Framework. This suite of programmes are agile in terms of learning objectives, content and delivery, designed to evolve with the economic, regulatory and business environment within which directors and boards operate.
* The learning outcomes of the IoD Chartered Director Programme are mapped against the IoD UK Competency Framework for Directors. The competencies within the IoD UK framework are fully reflected in the IoD Ireland Continuing Professional Development Framework for Directors.
The concept of the Learning Board is at the centre of the IoD Ireland CPD Framework for Directors reflecting that a board's effectiveness is influenced by the collective strength of its directors and that to optimise that collective strength, boards and directors should be focused on their continual professional development in a fast-paced world. Each dimension includes specific competencies in the form of knowledge, skills, and behaviours critical to overall board success.
The IoD Ireland CPD Framework for Directors is designed around four dimensions of competency. These include: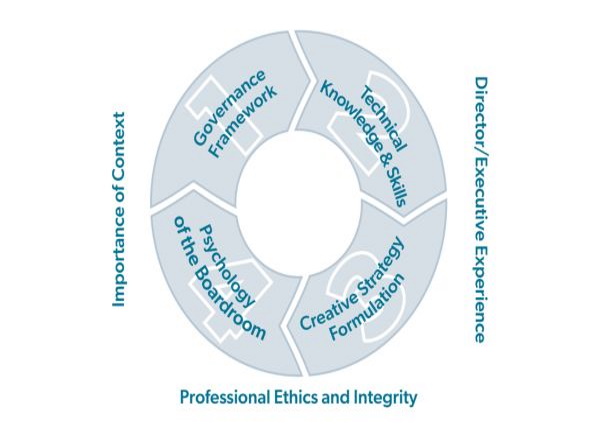 1. Governance Framework
This dimension encompasses the specific competencies needed to design, evolve, and oversee a corporate governance framework suitable to context in an organisation. It includes the legal duties and responsibilities of being a director, the regulatory landscape, specific governance codes, the role of the boards and board committees in practice and the operation of a system of internal governance.
2. Technical Knowledge and Skills
This dimension encompasses the technical skills and knowledge needed to optimise the collective strength of the board in leading the strategic planning process, in making decisions, and creating accountability in relation to legal and regulatory compliance, risk, control and corporate performance. It includes technology, financial and ESG related competencies.
3. Creative Strategy Formulation
This dimension encompasses the methodologies and inputs to strategy formulation and is underpinned by an emphasis on creative and critical thinking in the formulation process.
4. Psychology of the Boardroom
This dimension of competency centres on behavioural aspects of boards and board effectiveness.
Underlining these four competencies are the principles of Professional Ethics and Integrity, Context and Experience. Every organisation has unique characteristics, and the board of directors must evolve the governance infrastructure to suit organisational context with regard to maturity, size, competition, geographical spread, ownership, among other things. Furthermore, we are mindful that those charged with governance are not an homogeneous group in terms of length, depth, and type of experience on or engaging with boards. Our members represent a continuum of experience from senior executives reporting to boards and looking to become executive or non-executive directors to seasoned executive and non-executive directors. Finally, these values and ethical behaviours must be exemplified by directors and senior executives and are ubiquitous to all our programmes.
How can the IoD Ireland CPD Framework for Directors be Applied?
The IoD Ireland CPD Framework for Directors can be applied in two ways:
Individual directors can utilise the CPD Framework to identify learning and development needs for their individual professional development which will also contribute to collective board strength.
Boards can utilise the CPD Framework as part of its assessment of board skills, composition, succession planning and training needs assessments.
FAQs
Please note all IoD Ireland events and training activities are fully recognised for CPD by the Institute of Directors (UK), the awarding body, for the Chartered Director designation.

Please note IoD CPD may also be eligible for other professional body CPD, please check with your relevant professional body to confirm this. When undertaking an IoD Ireland training/event activity, IoD can provide proof of this CPD upon request.

If you are a Chartered Director, it is mandatory to accrue 30 hours of CPD in a year. This is monitored by the IoD UK.

This is not a mandatory requirement for being an IoD Ireland member, but we would recommend members and directors to continue their professional development to ensure they are staying up to date with the latest governance requirements.

All IoD Ireland events and webcasts (recordings of events), which are free to attend/view, are eligible for at least 1 hour of CPD. All training activity, such as our series of workshops and short programmes are also eligible for CPD. For more detail on the number of CPD hours, visit the specific IoD Ireland website pages.

Also, the reading of resources such as IoD Ireland Director Factsheets, research, and blogs etc are also eligible for CPD for Chartered Directors.

The IoD Ireland CPD Framework is designed to empower individual directors and boards to identify which competencies they need to either further their own development as a director, or the collective skillset of their board.

For this reason, it is not necessary to accrue a certain amount of CPD credits in each competency. However, it is recommended that you leverage each of the four dimensions in the Framework to achieve a well-rounded and comprehensive competency.
Professional Development Advisory Committee
The governance of the IoD Ireland CPD Framework for Directors will be overseen by a Professional Development Advisory Committee, in collaboration with the IoD Ireland team. Please see the members below.