We are delighted to announce that Mason Hayes & Curran will be our sponsor for this year's IoD Christmas Lunch 2023. 
The Christmas Lunch is a popular annual staple in the IoD event calendar and is a key networking event. The event hosts over 350 business leaders and directors.
Booking for the event is not yet open but will be soon. We will also announce our entertainment and charity partner for the Lunch shortly. This year it will take place at the InterContinental Hotel, Dublin 4, on Friday, 8th December.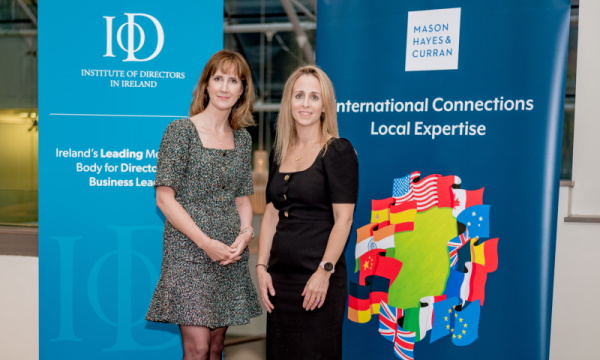 (L to R: Caroline Spillane CDir, Chief Executive Officer, IoD Ireland; and Claire Lord, Head of Corporate Governance, Mason Hayes & Curran LLP).
Mason Hayes & Curran LLP is an award-winning law firm employing over 580 staff including 119 Partners with offices in Dublin, New York, San Francisco and London. The firm assists clients in meeting their ongoing legal and commercial imperatives through every business life cycle. Legal advice is tailored to strategic objectives allowing clients to make informed decisions and to successfully navigate even the most complex matters. Lawyers in the firm have profound knowledge and experience in the following sectors: Energy; Technology; Financial Services, Built Environment and Healthcare & Life Sciences. Corporate social responsibility is a natural fit with the way the firm operates, and it invests heavily in society and local communities through a range of focused programmes.