Last evening, Thursday, 3rd March 2022, the Institute of Directors (IoD) Ireland hosted its awards ceremony for the presentation of Certificates and Diplomas to IoD members who successfully passed their exams in Company Direction. The presentation event was held at Thomas Prior Hall, Clayton Hotel, Ballsbridge, Dublin.
The ceremony also awarded IoD member Tom Loughman with the second annual Tom Byrne Award, which recognises excellence in academic achievement as well as individual participation in, contribution to and engagement with the Chartered Director Programme. Tom Byrne was President of IoD Ireland from 2011-2013, and sadly passed away in 2021. In addition, four members, including Tom, also received special recognition. These included:
1. Noelle Condon, CFO, NAMA.
2. Tom Loughman, Senior VP of Technical Operations, Iterum Therapeutics plc
3. Gillian McNamara, Head of Legal UK & Ireland, Company Secretary and Director, L.M. Ericsson Limited
4. David O'Mahony, Global Finance Director, DePuy Synthes.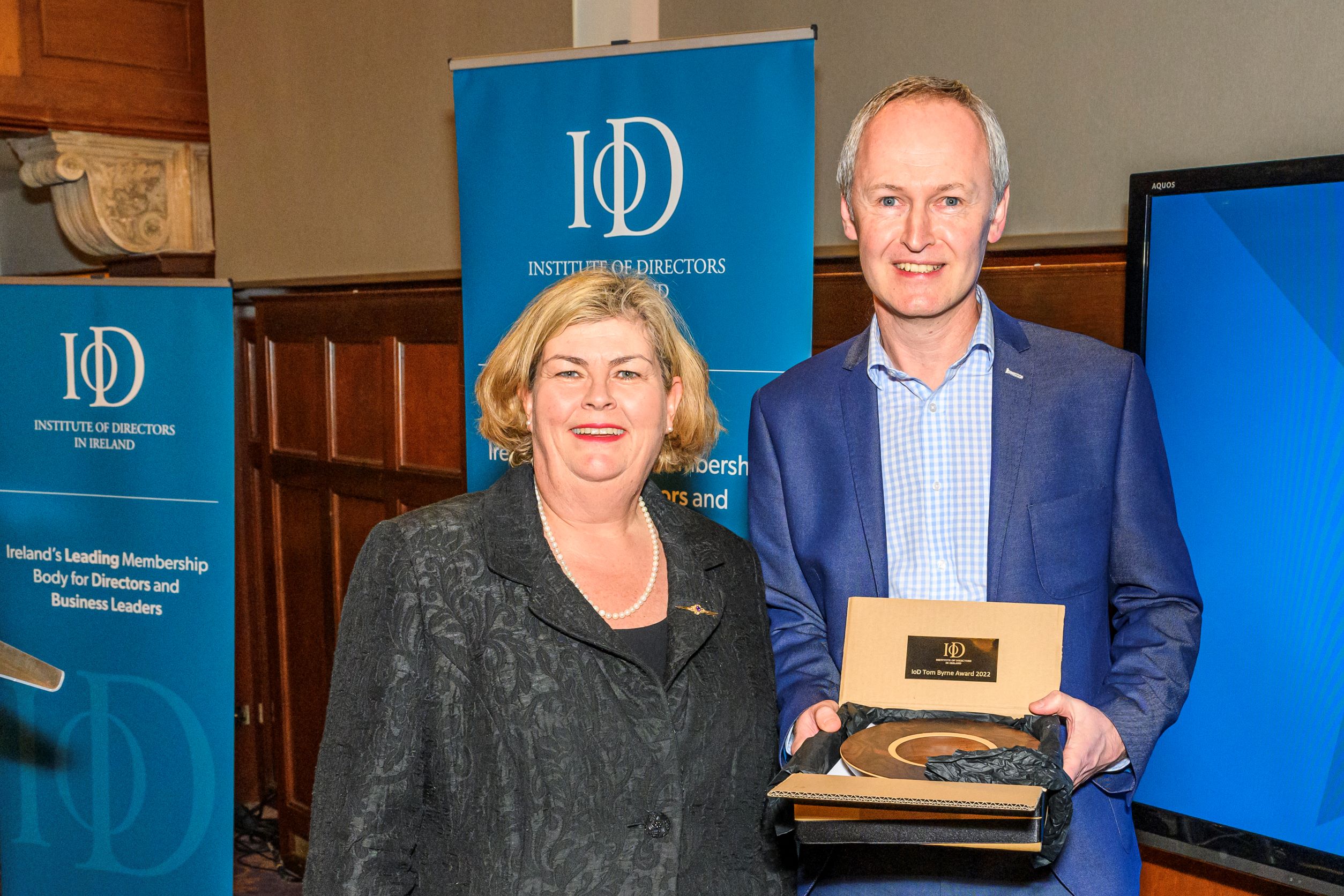 Pictured at the IoD Ireland Certificate and Diploma in Company Direction presentation on Thursday, 3rd March at Thomas Prior Hall, Clayton Hotel, Ballsbridge, Dublin: Imelda Reynolds, President, IoD Ireland and winner of the Tom Byrne Award, Tom Loughman, Senior VP of Technical Operations, Iterum Therapeutics plc. The Tom Byrne Award recognises excellence in academic achievement as well as individual participation in, contribution to and engagement with the Chartered Director Programme. Tom Byrne was President of IoD Ireland from 2011-2013, and sadly passed away in 2021. Photographer: Noel Hills
Maura Quinn CDir, Chief Executive, Institute of Directors (IoD) in Ireland, commented:
"It is important for organisations to maintain the highest standards of good governance. Further education and continuous professional development play a key role in applying such standards, so I offer my congratulations to all who successfully completed their Certificate and Diploma in Company Direction. The Certificate and Diploma in Company Direction are important qualifications in their own right and also key milestones that enable the recipients to proceed on their journey to become Chartered Directors. The IoD Chartered Director Programme offers a formalised qualification for directors and strategic business leaders, and ensures they have the most up to date learnings for the role and responsibilities of being a director. It is the gold standard of director training. IoD is the only body in Ireland that provides the full designation and recognition as a professional Chartered Director (CDir)."
Maura Quinn CDir added:
"I am delighted, too, to present the second annual Tom Byrne Award to Tom Loughman. The Award recognises excellence in academic achievement as well as individual participation in, contribution to, and engagement with the Chartered Director Programme."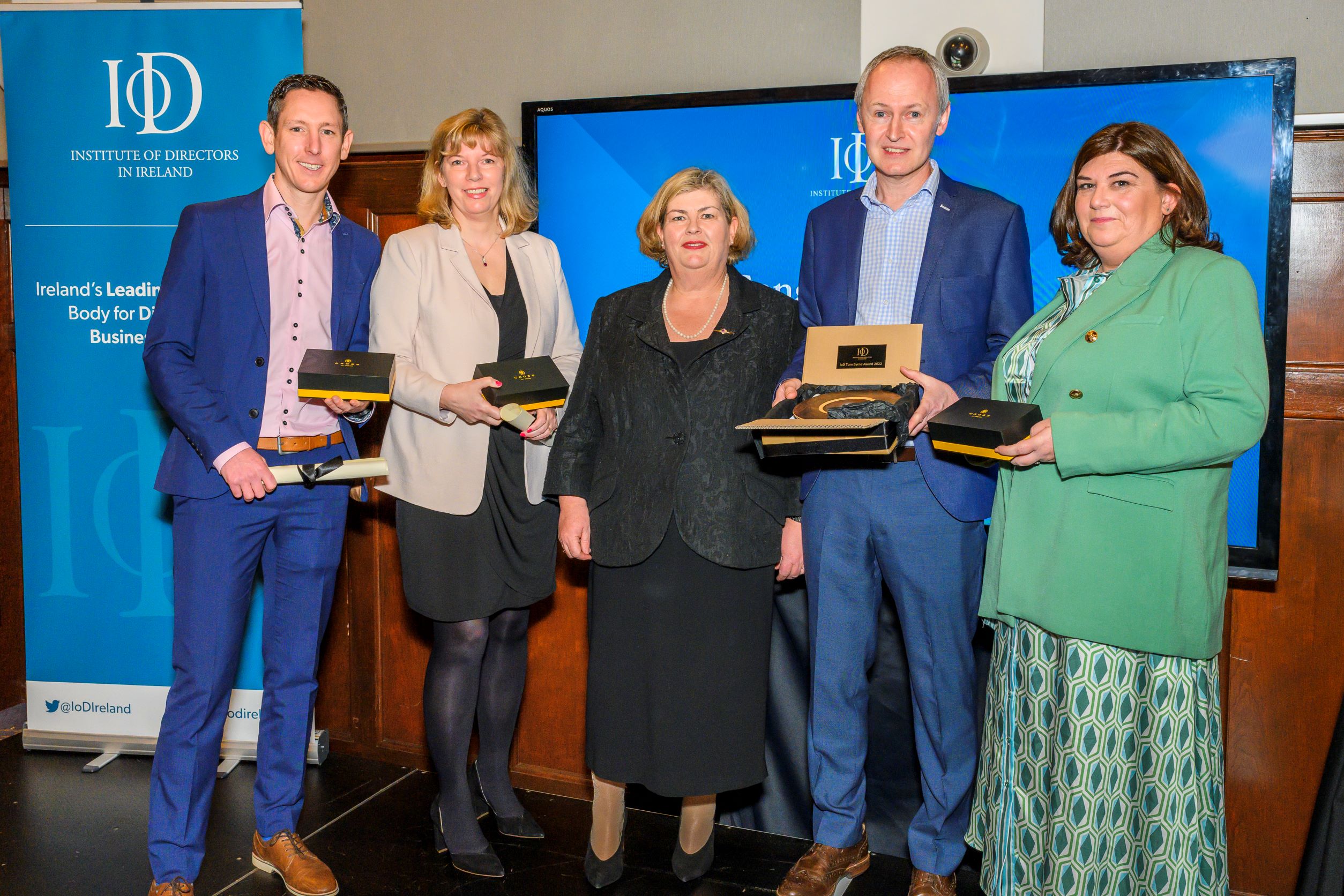 Pictured at the IoD Ireland Certificate and Diploma in Company Direction presentation on Thursday, 3rd March at Thomas Prior Hall, Clayton Hotel, Ballsbridge, Dublin, IoD members who received special recognition (from left to right): David O'Mahony, Global Finance Director, DePuy Synthes; Gillian Fischer, Head of Legal UK & Ireland, Company Secretary and Director, L.M. Ericsson Limited; Imelda Reynolds, President, IoD Ireland; Tom Loughman, Senior VP of Technical Operations, Iterum Therapeutics plc; and Noelle Condon, CFO, NAMA. Photographer: Noel Hills