Yesterday, we held the first event of our Morning and Evening Briefing Series for 2020, with guest speaker Marian Finnegan, Managing Director of Residential and Advisory, Sherry FitzGerald Group.
Marian provided a timely and insightful up-to-date commentary on trends in all sectors of the Irish property market. Her presentation addressed: the economic and political background, residential market, private rental market, commercial market investment and occupier trends, and the office market. All IoD Ireland members can view the briefing presentation and/or watch the webcast of the event on the exclusive member area of the website.
Initiating yesterday's event, Maura Quinn, IoD CEO, once again thanked Mazars Ireland for their sponsorship of the series, which they have renewed for 2020. Frank Greene, Head of Tax, Mazars Ireland, also addressed the audience to note the significance of the property update.
The event was held in the Westbury Hotel, and was attended by over 200 IoD Ireland members.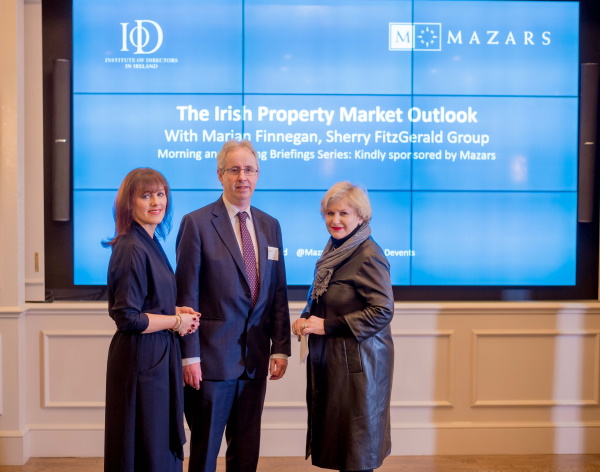 L to R: Marian Finnegan, Managing Director, Residential and Advisory, Sherry FitzGerald Group, Frank Greene, Head of Tax, Mazars Ireland and Maura Quinn, CEO, IoD Ireland, pictured at the IoD Ireland Morning Briefing event. Photo: Aidan Oliver