Last evening, Thursday, 29th September 2022, the Institute of Directors (IoD) in Ireland hosted its graduations ceremony for business leaders who successfully passed its Certificate and Diploma in Company Direction exams, which constitute part of the IoD's gold standard Chartered Director Programme.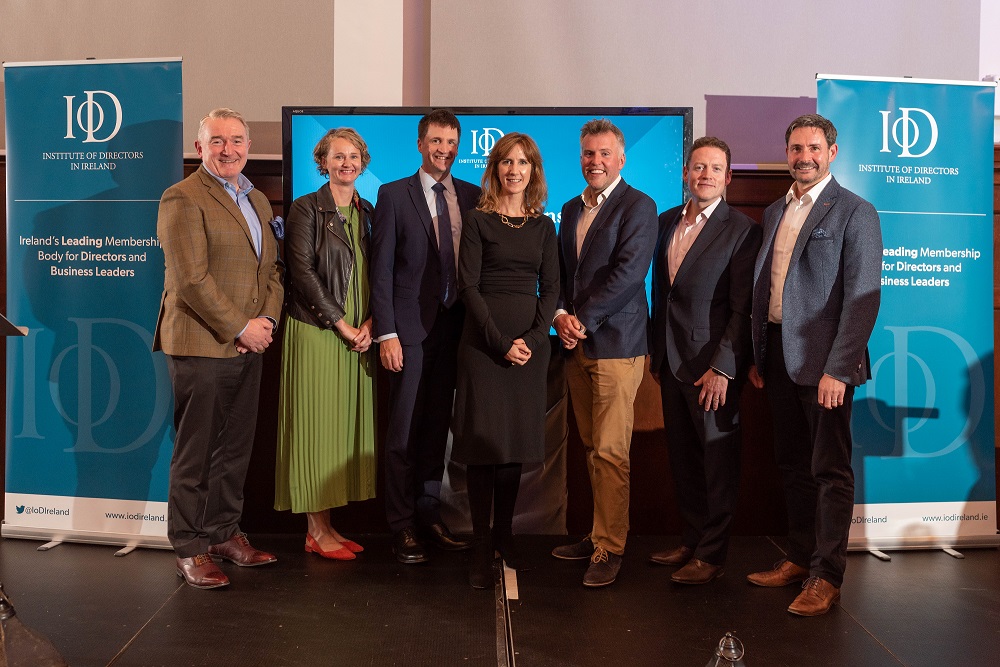 Pictured from left to right: John Jordan, Chief Executive, Ornua Co-Operative Ltd; Rachel Flynn, Director of Health Information and Standards, Health Information and Quality Authority (HIQA); Pat Horgan, Head of Business Banking, AIB; Caroline Spillane CDir, Chief Executive, IoD Ireland; Dónal O'Sullivan, CEO/Founder, Killiney Hill Capital; Stephen Groarke, Chief Financial Officer, U.S. Bank; and Garvan Callan, Founder, ONEZERO1.
Special recognition was given to six graduates who had achieved over 80% in the Diploma exam. In addition, the IoD recognised a further 27 graduates for receiving a Distinction in both the Certificate and the Diploma in Company Direction exams.
All of these graduates were also gifted with a certified native Irish broadleaf tree from the IoD, each of which will be planted and certified in the graduates' names by Wolfgang Reforest. This body is a not-for-profit social enterprise, whose mission is to start a movement of citizens and companies planting trees, thereby reforesting Ireland acre by acre.
The six graduates who achieved over 80% in the Diploma in Company Direction exam were:
Garvan Callan, Founder, ONEZERO1
Stephen Groarke, Chief Financial Officer, U.S. Bank
Rachel Flynn, Director of Health Information and Standards, Health Information and Quality Authority
Pat Horgan, Head of Business Banking, AIB
John Jordan, Chief Executive, Ornua Co-Operative Ltd
Dónal O'Sullivan, CEO/Founder, Killiney Hill Capital

Caroline Spillane CDir, Chief Executive, Institute of Directors (IoD) in Ireland, commented:
"Even though time is at a premium for busy directors and business leaders, the importance of continuous professional development is not to be underestimated. With this, I wish to express my warmest congratulations to all who received their Certificate and Diploma in Company Direction, part of the IoD's gold standard Chartered Director programme, at last night's graduation ceremony. This is an impressive achievement by all involved. I would also like to acknowledge the graduates who received exceptional results, distinctions in their Certificate and Diploma exams. As our way to mark such an achievement, we are delighted to recognise these awardees by gifting 33 native broadleaf trees to those who achieved these notable Distinctions. These trees will be planted in their names by Wolfgang Reforest."