Expert insights by Michelle Fogarty, FCIPD, BA, Co-founder and COO of PepTalk. This blog has been written exclusively for IoD Ireland members.
As the lockdowns unwind and economies start to reopen, now is the perfect time to assess what we learned over the last year about work and humanity. It's an opportunity to reflect on what truly matters to our people, on how to build a workplace that enables people to do their best work while balancing the flexibility and autonomy they crave to deliver better for our customers and shareholders.
At its core, it pushes forward the question: 'What if work wasn't a place?'
Irrespective of where you choose to work, could this question change our thinking about 'how we work'?As we return to normal, we need to ask was normal that great? It's easy to wax lyrical about the good old days, given how tough the last year has been.
Most people have missed the human parts of being 'in the office' or a shared location. But we would be advised to ask ourselves, have we really been working remotely or just working at home in a pandemic? Any seasoned remote worker will tell you the past year was not 'normal remote working'.
Rose-Tinted Glasses?
Sure, it will be great to be 'back to normal' but the data suggests we are viewing the past through rose tinted glasses. If we cast our minds back to January 2020, we'll find that what we accepted as 'normal' wasn't that great.
According to Gallup who surveyed over 100,000 businesses globally, engagement rates at work were just 20% in 2020 [they were 19% in 2018 and 22% in 2019].
The World Health Organisation estimates mental health problems in the workplace cost the global economy $1 trillion annually.
Global Wellness Institute research shows that the economic burden of unwell workers in both medical expenses and lost productivity – is enormous, possibly reaching 10-15 percent of global economic output.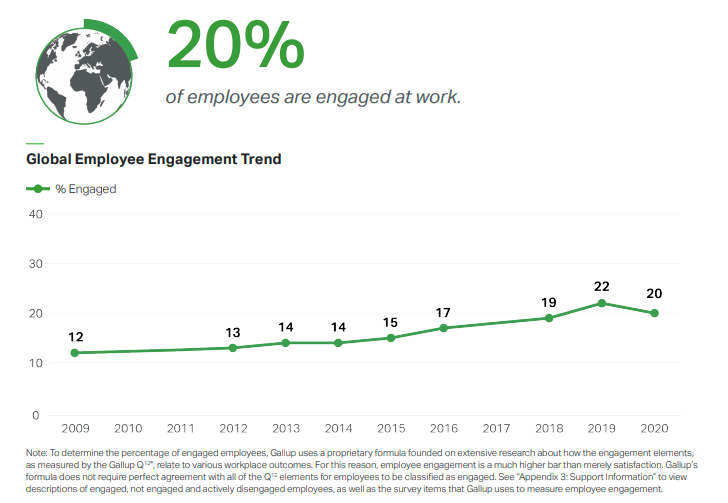 When our people are back at the office or onsite and the honeymoon period ends - then what?
Already, we are seeing that the great reshuffle has started. According to Microsoft's Work Trend Index (a survey of over 30,000 employees in 31 countries), 40% of employees are planning to move jobs this year.
Covid has pushed front and centre for employees what matters about work - the quality of the work, the people they work with and how they work being congruent with themselves as human beings. It's clear work's broken, and the good news is fixing it is possible!
If I channel my inner cynic, I would be asking, 'If making work better for everyone isn't that hard, why isn't everyone already doing it?' And the simple answer is that creating the habits/behaviour change to improve engagement at work is far trickier than people think. In over 20 years of working with human capital in some of the most cutting-edge companies, I have learned that the key to making any change sustainable is by focusing more on how you create a habit from the new behaviour, otherwise change will be a flash-in-the-pan.
To be successful in whatever model you choose, you need to spend far more time on 'how' to make it work. So, here are my three key considerations for the future of work:
1. Working Structures are NOT a Given
Employers should strive to get beyond 'middle of the road' approaches. The ways of working go beyond 'office, hybrid and remote'. Even within these options, there is room for diverse approaches.
We need to remember that working structures are more than a location. Our current employees may want offices, our future employees may not! Irrespective of what structure you chose, your people will benefit from being asynchronous by default, because culture and performance in the new workplace will be created through shared experiences, not shared environments.
2. Technology Will Play a Greater Role
On the human side of the house, we need to lean more into technology than ever before. We need to not just think comms tech, but rather think work tech! We want to look at solutions that are integrated into the flow of work and allow our people to move away from the stilted world of Zoom meetings – to provide opportunities for more spontaneous interactions, insights, ideation, and debate.
One of the biggest opportunities tech gives us as employers is seeing at a team level readiness-to-work sentiment. We can address changes in engagement levels before they cause problems in productivity.
3. Trust and Empathy are the New Currency of Leadership
If we want to change how our people work, we must change how we lead.
Leadership at its core is a human endeavour, it is about making people feel safe and valued. This equates to openness, vulnerability, and a willingness to go the extra mile - because your leader would do it for you. The most effective workplaces build out ways of working and leadership structures that reinforce human values.
Why? It's simple: Better people = better leaders = more engaged teams = better retention.