Employers for Change is an employer disability information service providing advice and information to employers, to empower them to recruit, employ and retain staff with disabilities. In this piece, I will outline some key areas of which all business leaders and employers should be mindful with regard to disability in order to ensure inclusive recruitment.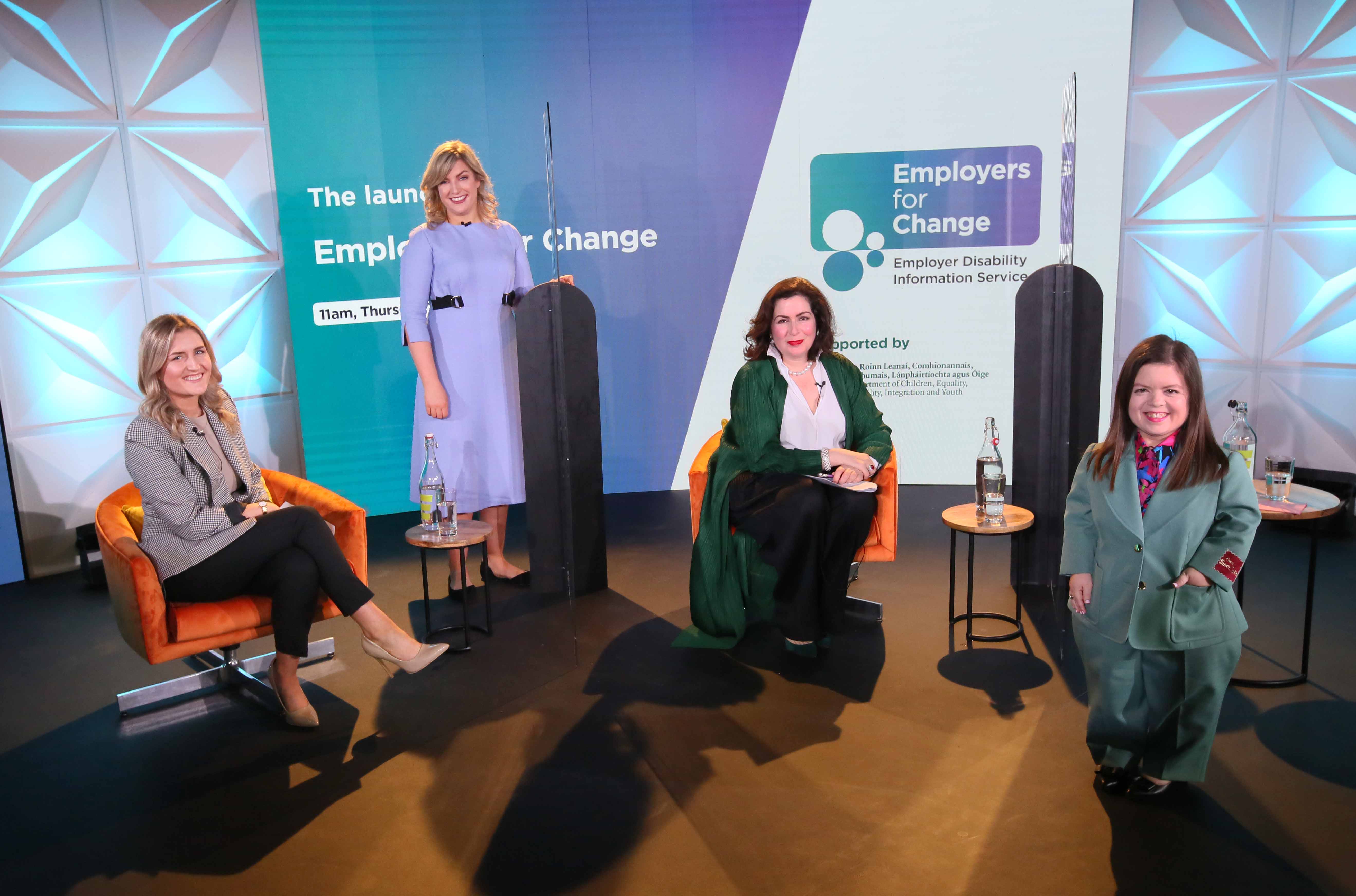 (Pictured left to right at the launch of Employers for Change: Síne Breslin, Management Associate Bank of Ireland, Christabelle Feeney, Director Employers for Change, Francesca McDonagh, CEO Bank of Ireland and Sinéad Burke, CEO Tilting the Lens, out of shot an Taoiseach Micheál Martin.)
There are almost 450,000 people living with a disability in Ireland. That's one in seven people.
Globally there are over 1.3 billion people with disabilities and, together with friends and family, this group's spending power is $8 trillion. Not only is that a pool of potential employees that employers should not ignore, it is also a wealth of customers and capital that businesses cannot afford to miss out on.
Yet, people with disabilities are half as likely to be employed as their non-disabled peers. That is 36.5% of employment compared to 72.8%. The European Commission Country Report for Ireland 2019 revealed that Ireland has one of the lowest rates of employment for people with disabilities in the EU, sitting at almost half the European average.
Of course, being inclusive of people with disabilities makes good business sense but employment is also a right, protected by Irish Law.
Employment is a Right
Three pieces of legislation that stand out are the Disability Act 2005, the Employment Equality Acts 1998-2015 and the UN Convention on the Rights of Persons with Disabilities.
The Disability Act 2005 places a statutory obligation on public service providers to support access to services and facilities for people with disabilities.
The Act establishes a basis for:
An independent health and educational needs assessment and a related service statement.
Access to independent complaints and appeals procedures.
Access to public buildings, services, and information.
An obligation on all public bodies to promote and support the employment of people with disabilities (with the exception of Garda, Defence Forces or Prison Officers).
Restrictions on the use of information from genetic testing.
A Centre for Excellence in Universal Design.
The Employment Equality Acts 1998-2015 aim to promote equality, prohibit discrimination under nine grounds (one of which is disability) in employment (including vocational training and work experience).
The Acts place an obligation on employers to ensure that suitable facilities are available for people with disabilities in relation to access to employment, training and employment progression. These are referred to in the Act as "appropriate measures" and are often referred to as reasonable accommodations.
Some examples of reasonable accommodations may include adjustment to working hours, option to work remotely, considering alternative ways of doing tasks, providing company information in appropriate formats and assisting in communication, accessible facilities, adjustable-height desks, quieter office space or assistive technology. Employers should consider possible sources of funding, such as supports and grants provided by the Department of Social Protection when assessing the cost of a particular accommodation.
The UN Convention on the Rights of Persons with Disabilities (UNCRPD) came into force in Ireland on 19 April 2018. Article 27 of the Convention focuses on work and employment and requests that:
"States Parties recognize the right of persons with disabilities to work on an equal basis with others; this includes the right to the opportunity to gain a living by work freely chosen or accepted in a labour market and work environment that is open, inclusive and accessible to persons with disabilities. States Parties shall safeguard and promote the realization of the right to work."
UNCRPD is underpinned by the social model of disability which interprets disability as being created by societal, attitudinal, and structural barriers. This model requires society and in turn employers to look at how they create accessible and equitable employment for all. Addressing these barriers begins at recruitment stage.
Inclusive Recruitment
By employing someone with a disability, employers are building and retaining a team that best reflects the community around them. Employees with a disability add value to teams by bringing a range of skills, talents and abilities beyond that of the traditional workforce.
Employers should seek to be inclusive from the recruitment stage. The processes put in place at this point in the employment process are crucial to the inclusion policy of the organisation. The following are suggested steps on how to build an inclusive recruitment process.
Job Analysis: This is the first step in any recruitment process and the best way to ensure a good job-individual match. Developing a competency-based job description, where the job is the focus and not the individual who fits it, is crucial to encouraging the employment of people with disabilities.
Application Process: Flexibility in how someone can apply for the role is a key positive action for people with disabilities. Jobseekers and employers rely heavily on online recruitment, so the hiring site should be fully accessible.
Company's Commitment: State the company's commitment to diversity and inclusion at the start of the job specification by welcoming applications from people with disabilities by stating that the company accommodates the needs of candidates with disabilities. Provide an alternative means for people with disabilities to contact the company to request accommodations at interview.
Accessible Formats: Make sure the job information is available in accessible formats and allow applicants with a disability as much time as they need to fill in forms, if they are timed.
Methods of Testing: Applicants with disabilities are often screened out of the process before the interview stage. Some companies use assessment centres and online testing. These tools can be a barrier to applicants with disabilities, especially non-visible disabilities. It is important to consider whether or not the methods of testing reflect the needs of the job being advertised. A work trial or placement may be a better way to assess the abilities of applicants.
Recruitment Agencies: When using a recruitment agency, it is important to assess their ability to accommodate potential candidates with disabilities. Contacting disability organisations and supported employment schemes, will encourage applications from diverse communities.
Interview Process: When assessing your interview process, remember the purpose of an interview is to establish whether applicants have the skills and capability to do the essential and core elements of the job. Interview processes do not need to be changed= as long as they're accessible and that questions are competency based to get the best result.
Interview Panel: Members of the interview panel should be appropriately trained in disability awareness, for which funding is available.
Open Mindedness: When interviewing, it is important to ask all candidates the same open and direct questions about their ability to perform the functions of the role. It is important to be open-minded as to how the job can be done – people with disabilities can approach tasks differently. They are creative thinkers, problem solvers and exceptionally resilient. They have had to navigate their lives and work in a different, and often more difficult, way than their non-disabled peers.
Employers have the power to create systematic change by implementing inclusive policies, which not only give people with disabilities the opportunity to work but also to enjoy full social inclusion. COVID-19 has reminded us of the importance of social interactions, of the water cooler discussions we once took for granted and the enormous part they play in the happiness of our everyday lives.
For more information on this area, register for our webinar entitled Inclusive Recruitment Practices, on 31st May at 2pm.