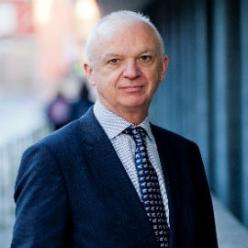 What has been your career highlight to date?
The highlight was taking over the reins in 2009 notwithstanding the following four years were the most challenging ever for the sector. Along with most businesses, OCSC witnessed an 80% drop-off in activity. However the stabilisation and subsequent growth of the business has been a real highlight of what effective management can achieve.
What qualities do you need to succeed in business?
You need to understand it is all about the customer – no matter what you are selling. It is about defining what you sell, identifying who your sweet-spot clients are and then acquiring and retaining them. It is only in this way that you can differentiate on value and not price.
Who or what are your main influences?
You mean other than Paul Flynn and Diarmuid Connolly? I am not sure I have any great business influencers however, having completed the Enterprise Ireland run International Sales Development Course I would recommend it as a rock of sense to anyone in the selling business.
What is the most challenging part of your role?
I do recall someone much more eminent than me referring to the need to 'keep the fleas in the bucket'. But leaving that basic necessity aside, I think the challenge centres on developing and selling a vision to very intelligent people working in a high knowledge environment.
What, in your view, is the biggest challenge facing directors in Ireland today?
Keeping on top of the ever-changing regulatory environment is a challenge. From changes in reporting standards, to data retention issues through to employment law and ISO there is a never ending procession of change. This can be particularly fraught and time consuming for the SME sector.
What, in your opinion, makes a great leader?
Leadership is about creating a vision and showing the way. Great leaders control by example and create self-regulating teams who enjoy their work and want to perform in a collaborative fashion to achieve real results – not because they are frightened, or worse still, bullied by someone in a position of authority.
What do you hope to gain from your membership with the IoD?
I hope to gain access to and learn from other directors with different experiences. I want to be taken out of my comfort zone and challenged in my thinking. I also want to avail of the real networking opportunities that the IoD affords its members.