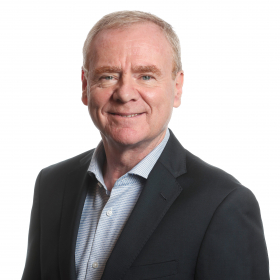 Why did you decide to join the IoD in 2008?
In the late 1990s I was CEO of a wholesale food co-operative, and as the only executive on a board of ten people, I felt a need to understand boards better to ensure that proper governance was brought to the table. The IoD and the Chartered Director programme was the way to understanding excellence in the boardroom. My decision to join was an easy one.
As IoD Ireland celebrates its 30th Anniversary, do you have any particular memory of the IoD you would like to share?
Becoming Ireland's first chartered director in 2001 was a daunting one. The interview in Pall Mall was extremely rigorous. The directors interviewing me were very conscious that I was applying to be the first CDir in "Eire" and they were certainly making sure that I knew about good governance!
I have enjoyed greatly being the guest speaker on the IoD Ireland Leadership & Governance for the Charity Sector workshop. I am always inspired meeting people who give their time and expertise to this vital sector.
What is the most important lesson, from your personal or business life, that has guided you the most in being a business leader?
Trusting your instincts and trusting your colleagues and resisting the urge to micromanage. Covid reinforced in me the need to empower the individual. Good communication, openness, compromise, being willing to listen, and remembering that you are not always right makes for better leadership, better relationships, and better businesses.
Is there someone who has had a major impact on you as a leader? Why and how did this person impact your life?
On the personal front, both my father and maternal grandfather were amazing businesspeople that gave me a great grounding in risk taking, people management and entrepreneurship.
On the business front, I was happy to have known Feargal Quinn as both a friend and business associate. Feargal had the most wonderful inquisitive mind and was so far ahead of his time on customer relations, food quality and service. Lessons that have stayed with me from our first meeting to today.
What is the one characteristic that you believe every leader should have?
If I can say three, they would be respect, integrity, and a sense of humour. Your business self should be no different to your personal self. Any one of these characteristics help make a leader but a combination of all three makes a leader that I would be delighted to work for.
As IoD celebrates its 30th Anniversary, what would you hope for the future of governance and leadership over the next 30 years?
Since I became Ireland's first CDir another 400 people have joined the club. Ireland represents about 10% of all CDirs worldwide, so governance in Ireland is highly prioritized. I would like us to push the boat out from good governance to great governance. Why should we concentrate on good governance when we could go for great! Secondly, I am excited to see not only the G in ESG but also the Environmental and Social aspects taking real traction. I was part of the first cohort of members taking the IoD Course on Sustainability. Four more cohorts have now completed the programme. Within the next few years, I would love to see sustainability taking centre stage at board meetings. Until sustainability becomes a matter of primary importance to boards, we will continue to fail the next generations. Governance alone will not save the planet.
What do you particularly value from your IoD membership over the years?
The continuous training, the refresher courses, the talks, the insights, and the factsheets. All in all, my membership has made me more aware, more inquisitive and I hope a better manager, colleague, board member and chair.