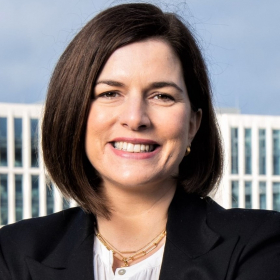 Why did you decide to join the IoD?
I joined the IoD four years ago. I knew that access to the network and resources the IoD provided would be invaluable.
What do you particularly value from your IoD membership?
As well as networking opportunities, IoD offer events, supports and materials that are tailored to the specific challenges faced by directors in Ireland. It's a fantastic resource.
What is the most important lesson, from your personal or business life, that has guided you the most in being a business leader?
To put integrity at the core of everything you do. Communications – good communications, anyway - requires you to be authentic to everyone you deal with. Be honest with your clients, employees and suppliers at all times, even when those conversations are difficult. The things you achieve and the trust you garner through honesty and integrity will stand to you in the long run.
Is there someone who has had a major impact on you as a leader? Why and how did this person impact your life?
The people that have had the most impact on me are all those who take the plunge and work hard to build a successful business – it's those people that continue to inspire me.
What is the one characteristic that you believe every leader should possess?
Bravery. My motto is, "If you don't ask, the answer is always a no." I'm a firm believer that you will never get what you want if you don't chase it, and it's very easy to get trapped in your comfort zone. As a leader, you have to be brave, be ambitious, and chase your targets, even when failure is a possibility.
What are the biggest business challenges or/and opportunities that you have seen over your career to date? And how did you help to overcome or/and optimise these?
Over the years, the biggest challenge has been learning to grow the business in a sustainable, considered way. It's a constant learning curve, but there are huge opportunities that come with it, as well as being key to ensuring the longevity of Springboard.
How has your business evolved and adapted because of the COVID-19 crisis? Do you believe COVID-19 will impact your future business model?
Like many, we were as exposed to the shock of COVID-19. But instead trying to get Springboard back to where it was before the pandemic, we took the opportunity to think about what Springboard could become. At the end of 2020, we rebranded from Springboard PR and Marketing to Springboard Communications, which better reflected our strengths and priorities. We built out our service offering, including our Internal Wire for strategic internal communications, expanded our team and partnered with new clients both here in Ireland and overseas to create the agency we want to be. We're now stronger than ever and laser-focused on reaching the potential we see in ourselves.
How do you think business leaders can best prepare for the future?
Push yourself. Be proactive about the future, not reactive. I focus on a simple question: what's next for Springboard? When I can see that picture, I can be strategic about the work I'm doing in the present to get where we need to be in the future. You can't just focus on what's in front of you in any given moment or you will end up standing still. You have to challenge yourself. You have to challenge your clients and partners. That's how you learn, that's how you grow your business.
What advice would you offer to new or aspiring directors in Ireland?
Don't always chase perfection. Chasing something unrealistic will just get in the way of the real goals you can achieve. Sometimes good is good enough, so know what really requires your focus and resources.