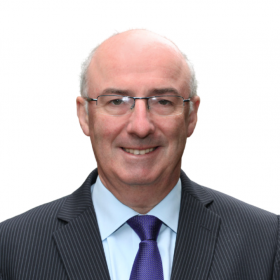 Why did you decide to join the IoD in 1993?
I joined IoD originally when I was running my own business as I was keen to learn more about how having a board could be of help to me. When I started to join boards as a Non-Executive Director, my IoD involvement was very helpful.
As IoD Ireland celebrates its 30th Anniversary, do you have any particular memory of the IoD you would like to share?
No particular memory, but I'm struck by how much more is needed from directors these days and the increasing role the IoD has played in supporting them.
What is the most important lesson, from your personal or business life, that has guided you the most in being a business leader?
It is all about the people – the people in your personal life and having good teams in business.
Is there someone who has had a major impact on you as a leader? Why and how did this person impact your life?
I have been very influenced by Warren Buffett. I bought some of his stock way back and started going to his AGM in Omaha when I could. I've been eleven times in all, and I started out wanting to learn about how he invests but have learnt much more from him in areas like the importance of culture, honesty and ethics in business and a myriad of other areas like capital allocation, executive reward systems and many other areas.
What is the one characteristic that you believe every leader should possess?
Honesty.
As IoD Ireland celebrates its 30th Anniversary, what would you hope for the future of governance and leadership over the next 30 years?
Good governance is really important, as is diversity – in lots of different ways. However, directors also need to understand the company's business to be able to contribute to strategy. It shouldn't be a "box-ticking" role.
What do you particularly value from your IoD membership over the last 30 years?
Mostly that it has kept me up to date in a whole host of areas. There are always emerging issues (like ESG at the moment) where NEDs need support and the IoD's seminars and courses have been a big help.