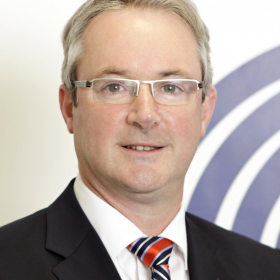 Why did you decide to join the IoD?
Today's business environment changes quickly. The IoD enables me to keep up to date with many of those changes and opportunities, and to grow my professional network.
What do you particularly value from your IoD membership?
I was a member of Cohort 6 in 2010/11. I took great value from Chartered Director Programme, which was both a challenging and enjoyable learning experience. I would highly recommend it.
What is the most important lesson, from your personal or business life, that has guided you the most in being a business leader?
Working in a global organisation with offices in 115 countries serving over two million commercial and public sector organisations has thought me that having empathy is crucial to business leaders. When you invest the time to see things as the other person does, you are much more likely to understand their challenges and come up with a solution that will work best.
Is there someone who has had a major impact on you as a leader? Why and how did this person impact your life?
I have been very fortunate to work with some inspirational colleagues and leaders all through my career – in Technology with GS1, in Communications with ComReg and RTÉ, in Business Consulting with Vision, and in the Military while serving overseas as a young officer. Common to all was their ability to create trust – and to deliver success through their commitment to the people with whom they work.
What is the one characteristic that you believe every leader should possess?
An inquisitive mind – and to constantly ask Why, and not focus too much and too early on the How or the What.
What are the biggest business challenges or/and opportunities that you have seen over your career to date? And how did you help to overcome or/and optimise these?
Probably the biggest challenge and opportunity has been the ever-increasing use of technology, mainly driven by consumers in the retail sector. Today – and very much accelerated by the global pandemic - the concept of the 'Digital Twin' is now a reality. This means that if a product, or asset, or indeed a service does not exist digitally then its visibility in the marketplace is incomplete. We embraced this by offering businesses the ability to create digital twins for their products for both local and global marketplaces.
How has your business evolved and adapted because of the COVID-19 crisis? Do you believe COVID-19 will impact your future business model?
GS1 is best known for the barcode, named by the BBC as one of 'the 50 things that made the world economy' and is used today throughout supply chains in over 25 sectors. Probably the biggest evolution was to provide a tailored software traceability solution to the Health Service Executive (HSE) for its national vaccination programme. As vaccines became approved and available, the HSE needed an efficient and effective way of receiving, administering, tracking and reporting vaccinations across more than 40 mass Centralised Vaccination Clinics (CVCs). I am hugely proud that GS1 Ireland was able to support the HSE. Having a business model that allows an organisation to pivot quickly to address immediate business needs will undoubtedly continue to be the norm.
How do you think business leaders can best prepare for the future?
By investing time to absorb new perspectives and being willing to learn.
What advice would you offer to new or aspiring directors in Ireland?
Post the global pandemic, there probably has never been a better time to be a business leader. While there are many risks – embrace them!