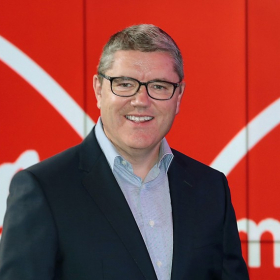 Why did you decide to join the IoD?
I was referred by another member, Ken McIntyre-Barn, when looking for a senior level network in Ireland with a broad membership base that could support me to innovate and inform strategic decisions.
What do you particularly value from your IoD membership?
Access to the wider IoD network plus the expertise and insight available on online platforms such as webcasts, articles and briefing presentations. I have also met with a number of interesting people at the evening briefing sessions.
What is the most important lesson, from your personal or business life, that has guided you the most in being a business leader?
Developing a culture of customer empathy within our business and finding ways to embed this in the experience that we create.
Is there someone who has had a major impact on you as a leader? Why and how did this person impact your life?
The late Feargal Quinn was a big influence on my early career as he understood the importance of understanding your customer and then designing your product and managing your service to exceed their expectations. I still have my copy of 'Crowning the Customer' to refer back to the principles that he promoted to benchmark what real customer centricity means.
What is the one characteristic that you believe every leader should possess?
Integrity - true leaders have it and it is the very core of their influence. Living the values they profess to believe is what gives them credibility and permit others to place their trust in them.
What are the biggest business challenges or/and opportunities that you have seen over your career to date? And how did you help to overcome or/and optimise these?
The biggest challenge has been the sudden onset of COVID-19, seeing the issues coming towards us from Asia and Europe and getting prepared when most people had not grasped the pending impact. It's a sensitive time; in-home connectivity and customer service have never been needed more as thousands of people and businesses across Ireland rely on their vital internet and phone connectivity to work from home, access critical news and educational resources, and connect with their families.
The key to success was engaging the teams early at all levels, to identify and implement solutions to adapt to the new environment. It has been hugely rewarding to see how everyone got on board to embrace the change whilst also launching two major new products - Virgin TV 360 and 1Gb broadband - during this time.
How has your business evolved and adapted because of the COVID-19 crisis? Do you believe COVID-19 will impact your future business model?
The challenge encouraged innovation and accelerated some plans already in place, forcing agility, and focused decision making. Despite all the disruption to businesses, economies and people's lives caused by COVID-19, it has also accelerated customer experience innovation. With more Virgin Media employees working from home, our customers were largely able to resolve their customer service issues using our digital tools such as increased support through WhatsApp conversations and a new visual support tool to help customers resolve issues without needing an in-home visit.
We also created over 100 customer care agent roles to support our national contact centre to maintain our essential services and keep the nation connected. We continue to build on this to find innovative ways to support customers that are impacted by the social and economic challenges.
How do you think business leaders can best prepare for the future?
Plan for where you need to go and work back. Determine what capabilities are needed to deliver your strategy and get them in place early. Don't be limited by what you have today, foster a culture of learning and development to enable transformation from within, along with recruiting new capabilities to get an external perspective.
What advice would you offer to new or aspiring directors in Ireland?
Find great leaders that motivate you and work out how you can bring what they do into your world. Don't get caught up in your own field or industry, look outside for inspiration. Make sure that you enjoy what you do, it makes a positive difference for you and everyone around you.
(Published November 2020)