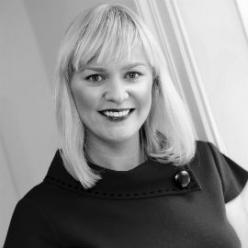 What has been your career highlight to date?
I actually think it was getting my first job in the communications sector. After I graduated, I tried out a couple of other careers, which were useful experiences because they weren't the right fit for me. Doing something to which I wasn't suited helped me appreciate what a privilege it was to find something I loved to do for a living. It's also a good reminder that sometimes you have to make mistakes to get to the right place. I'd always been interested in politics and current affairs, and when an opportunity to work in Leinster House arose after my ill-fated foray into accounting, I grabbed it with both hands. Since then it's been an exciting journey but I've never doubted this is the right path for me.
What qualities do you need to succeed in business?
Resilience, flexibility and drive.
Who or what are your main influences?
I draw a huge amount of inspiration from the team I have now, and my colleagues over the years. Throughout my career I have worked with phenomenal people, who've been generous mentors, and I know I wouldn't be in the position I am now if I hadn't had that support along the way.
What is the most challenging part of your role?
I am fortunate in that I like variety and change – because there is a lot of both in my role! I think anyone who ends up in consultancy is of a similar mindset. Driving performance on personal, team and company levels is where I focus much of my energy.
What, in your view, is the biggest challenge facing directors in Ireland today?
Having enough time to acquit your duties and responsibilities as a director accordingly. As well as being an executive director in my day job, I am also a non-executive director of a charity, the Asthma Society of Ireland. Finding the time and space to add value and insight to the organisations I am involved with is always a challenge.
What, in your opinion, makes a great leader?
A clear strategic vision, a calm head in a crisis, combined with a collaborative approach and a commitment to excellence.
What do you hope to gain from your membership with the IoD?
Knowledge, networking and access to insights from professionals in similar positions of responsibility across a range of sectors.