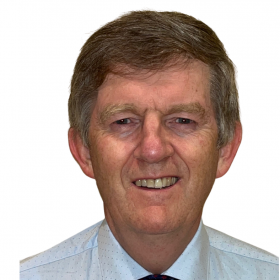 Why did you decide to join the IoD?
I joined the IoD to maintain a strong link with fundamental current and evolving best practice in corporate governance and corporate best practice.
What do you particularly value from your IoD membership?
I really value the formal and informal opportunities to receive easy to follow guidance on the current and emerging corporate best practice, as well as for the invaluable opportunities to meet and discuss all these topics with many IoD fellow members whose background, while maybe largely is different to mine, have corporate objectives and corporate cultural priorities very similar to mine.
What is the most important lesson, from your personal or business life, that has guided you the most in being a business leader?
In the first instance, the support of my wife, Marguerita, and family is something that I benefitted from enormously. From a business perspective, it's vital, firstly, to set out a clear strategy for each business with an unambiguous series of standards through which to operate. Secondly, to get teams, and all individual leaders within same, to have clear and joined up goals, including by whom and when they are going to be delivered. Thirdly, to have a clear and systematic number of KPIs for each role and business unit and continuously manage the business through these KPI's to make sure that the goals are being achieved. Nobody should ever be in doubt as to what's expected of them or what is being achieved by them on an ongoing basis. Fourthly, to encourage everybody to seek or give help to everyone around them in the organisation. Having excellent people who operate to our desired culture and performance criteria makes for satisfactory results and a happy workplace.
Is there someone who has had a major impact on you as a leader? Why and how did this person impact your life?
Yes, Jim O'Mahony, former CEO Golden Vale Plc, is and has been my most outstanding mentor and leader. I have had the good fortune to work closely with him in Aurivo Co-operative, Golden Vale Plc, and Freshgrass. He had an enormous impact on my ability to lead, manage, and develop both personally and commercially as a business leader. His focus on the imperative of having a clear strategy and appropriate KPIs for and within each business unit has gifted me with key tools to manage any business successfully.
What is the one characteristic that you believe every leader should possess?
A capacity to set out a clear strategy and vision for a business while at the same time being capable of putting together the appropriate team of individual leaders who have the ability, motivational and measurement skills, to ensure that each team has the best chance to optimise the results of any business or in a particular area of business.
What are the biggest business challenges or/and opportunities that you have seen over your career to date?
I have had many great challenges in my career, each of which, at the time, were very significant if such as: 1. Helping to lead and implementing the restructuring and successful recovery of Golden Vale in the mid-1980s; 2. The acquisition and integration of many businesses into Golden Vale in the 1990s; 3. The market analysis, capital investment and massive launch of Cheesestrings in Golden Vale in the 1994-1996 period; 4. Helping the integration of Golden Vale into Kerry Plc from late 2001 to 2003; 5. The conceptualisation of leaving the comfort of the corporate world to start out and build a business with a few likeminded investors; 6. Getting the acquired or developed businesses to be leaders in their fields by creating many competitive advantages, while at the same time delivering satisfactory results and 7. Most importantly at this time, having the privilege of working with so many excellent managers and colleagues in Grassland Agro, as well as with my fellow directors from our partners from Groupe Roullier, Drummonds and Fane Valley.
And how did you help to overcome or/and optimise these?
In all cases, successful outcomes were achieved by ensuring that I/we had a clear strategy and vision for each business team and opportunity with clear and measurable KPIs at all levels and, in so far as possible, to give everybody at all levels the freedom and encouragement to optimise the performance of their area of responsibility which essentially is what I affectionately call, the area that they are "CEO of".
How has your business evolved and adapted because of the COVID-19 crisis?
We have performed well during this period, particularly as all our team made sure that by applying best practice (and, in this case, the constraints were largely for public health reasons) both our team and our customers overcame the obstacles that needed to be overcome because of COVID-19.
Do you believe COVID-19 will impact your future business model?
Yes, I do, insofar that the priorities will always be even more towards getting the job done to the desired standard, on time, and within the health and safety distancing requirements, etc. Getting the work done was the priority during this period and not where a person made their contribution from or how many physical meetings they attended in any given period that enabled the result to be achieved, etc.
How do you think business leaders can best prepare for the future?
Now that the pandemic has subsided somewhat, we are already building on many of the lessons learned during COVID-19 challenges and most of these improvements are capable of adding value to our business.
What advice would you offer to new or aspiring directors in Ireland?
My advice to aspiring directors would be to: Firstly, lead with a clearly thought-through communication on the strategy and vision for the enterprise; Secondly, have every team member know and understand what is expected of them and the freedom to do their job well; Thirdly, as a director, be sure that in addition to the strategy, leadership, governance, controls etc, that the organisational culture is continually attended to and being reinforced within the organisation and; Finally, always be sure that the sum of all the initiatives being pursued at any one time within the organisation are well resourced and managed and that the total potential of all of these is much greater than the "internal or external minimum expected result".