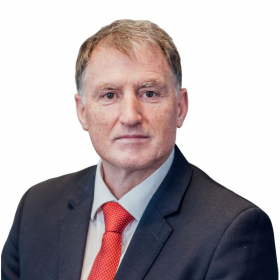 Why did you decide to join the IoD?
I have always had an interest in good governance and well-run organisations. Two good friends and colleagues, Helen Keelan and Gerry Jones, both IoD members, encouraged me to join as they felt I had a lot to offer other companies at board level.
What do you particularly value from your IoD membership?
I really value the Chartered Director education I have received. Along with the network of wonderful business contacts and friends made through IoD Ireland, it has really brought great additional perspective, tools, and knowledge to my understanding of strategy, governance, finance, and operations.
What is the most important lesson, from your personal or business life, that has guided you the most in being a business leader?
There are two that come to mind, if I may? As a neurodivergent individual, I initially struggled with the academic side of life. It wasn't until I understood the value of my own and other non-typical and diverse brains that I started to really understand the business and social value of diversity. It has propelled my confidence and passion for building and appreciating cultures that support very diverse high performance teams. The other key lesson is courage. Courage to try something different and bring people with you, courage to speak up and ask questions, courage to lead. I always remember a little saying my dad who spent many years at sea had, "A ship in the harbour may be safe, but in time it's bottom will rot, and the boat will sink.", this speaks volumes. Life is all about the art of the possible and taking well managed and calculated risks…blue ocean strategy maybe?
Is there someone who has had a major impact on you as a leader? Why and how did this person impact your life?
There really have been many great leaders that I have worked with that I have learned from and all brought something unique, so it is really impossible to choose. However, I love the work of Peter Drucker. He has probably done more to advance good management and governance practice than anyone. His quote, "What is measured is managed" is engraved in my brain! Time and time again I have turned to some of his work to solve business problems.
What is the one characteristic that you believe every leader should have?
That's a very tough question. Giving it some thought, I would say the single most important characteristic of a leader is effective communication. A leader must be able to convey vision, strategy, goals, and expectations in order to clearly and inspire others to work towards a common objective. Effective communication involves not just speaking well but also actively listening to others, being open to feedback, incorporating that feedback and input and fostering a collaborative and safe environment. While other characteristics are also vital for effective leadership, such as authenticity, integrity, empathy, adaptability, and strategic thinking, communication serves as the foundation upon which these other characteristics can be best leveraged. Without effective communication outcomes will always be suboptimal.
What advice would you offer to new or aspiring directors in Ireland?
Be yourself and really enjoy what you do! Know that your perspective is valuable. Never stop asking questions and improving your understanding of yourself, others, business and the world and how they all interact and are related!