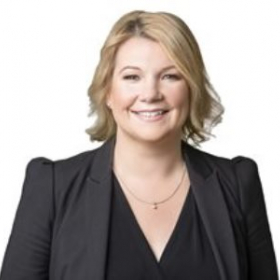 Joanne McEnteggart is the Managing Director of IQ-EQ in Ireland. IQ-EQ is the world's fourth largest independent investor services group.
About you and what you do
I am Managing Director of IQ-EQ in Ireland. IQ-EQ is the world's fourth largest independent investor services group, offering a comprehensive range of compliance, administration, asset and advisory services to global companies, investment funds, family offices and private clients operating worldwide. As well as managing the day-to-day operations of our Shannon and Dublin offices, I play a key role in developing our corporate services segment across our global network. In a sentence, we help people develop their businesses internationally and provide them with turnkey solutions in the jurisdictions in which we operate.
What are your key goals as Managing Director of the Group's Irish operations?
Since I joined the firm as Business Development Director in 2015, we have made significant strides in expanding our footprint in Ireland and internationally. Formerly part of First Names Group, we joined forces with SGG Group in 2018 and then collectively rebranded as IQ-EQ in March 2019. My primary goal now is to continue to build on our strengthening global presence and position IQ-EQ as the first choice when selecting a corporate services provider. We put considerable time and energy into thinking about the best way to deliver for our clients, so another one of my goals is to ensure we stay ahead of the curve and anticipate our clients' needs; so that we have the answer before they ask the question.
Who or what are your main influences?
My family - I grew up surrounded by entrepreneurs, from my grandmother to my dad, so I learned a lot at a very young age about how to communicate with people and the importance of understanding what makes people tick and that what is going on in their lives may impact on how they do their jobs. They also emphasised the importance of treating others as you would like to be treated.

My friends and colleagues - I am constantly picking up something new from my great colleagues across the Group, as well as some key people at intermediary firms that I have the pleasure of working with.
My husband - who is a great sounding board as he also works in the industry and I trust him to give me his honest (sometimes too honest) opinion.
What qualities do you need to succeed in business?
To succeed in any career, but especially in managing a business, you need to really enjoy what you do. You also need a lot of energy and resilience. I have found that the ability to bounce back if something doesn't work and approach it from a different angle while remaining focused on the client is a vital skill. And of course in today's global economy, you increasingly need to be alive to opportunities (and risks) however they present themselves.
If you hadn't chosen this career path, what else would you have been?
A career in law was a strong contender throughout my education; I studied both business and law at UCD. However, I decided that my personality was better suited to the commercial world. If we're talking about a "what would you be if you could be anything" scenario then I'd have to say professional athlete – ideally heptathlon.
What advice would you give to younger people / graduates considering a career in your area of work?
Fundamentally in our business you need to have a clear understanding of what you are doing and why. It's important to put in the groundwork and to ask questions when you need clarity or support – especially when you are starting out. Don't be afraid to ask question after question. Every day is a learning day! As you move on in your career you realise that changes in regulations, policies, reporting standards and tax legislation (and there will be many) are going to impact your working world, so you need to stay up to date. It can be an exciting, challenging and exhausting job, but it's never boring – despite most people's opinion of the defining characteristic of accountants. And if you're looking for that inspirational quote, here's one I like: "reach for the moon, even if you miss you'll land among the stars".
What in your opinion, makes a great leader?
According to GE CEO Jack Welch, good business leaders create a vision, articulate the vision, passionately own the vision and relentlessly drive it to completion. Great business leaders, in my opinion, inspire those around them to buy into that vision and own it. In our business, successful leadership is about forming and building good, solid relationships that last. People need to trust us and in turn we need to be authentic and empathise with them to communicate effectively and to deliver what they need.
(Published June 2019)