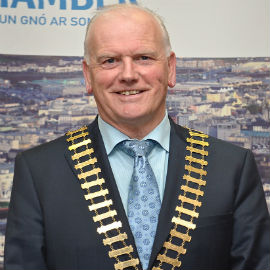 In respect of your career to date, what are you most proud of?
Being appointed, in 2012, Senior Manager Change Assurance of AIB's "Integrated Distribution Transformation" Team. As a team member I worked on many complex and challenging issues and help map and implement a sustainable recovery for AIB Bank and hopefully a full refund to the Irish taxpayer.
What do you believe are the most pressing challenges that business leaders face today? And why?
I think the two most pressing challenges that Irish Business Leaders face today are (a) BREXIT and (b) Challenges facing High-Street businesses
BREXIT will leave IRE and particularly West & N-West as the most remote and outer most part of EU. This physical isolation from the core of the EU will mean, because of additional costs and time, unable to compete on an equal basis in the EU Internal Market. In the interests of European solidarity the EU should bring together their experts in Logistics, Transport and Communications together with the Commissioner for EU Competition Policy and see how these additional costs can be minimised and ensure that those parts of the EU that are outermost and physically isolated can compete on an equal basis within the internal market.
High Street businesses are being assailed by the swiftly changing preferences of the powerful and digital-savvy millennial generation, and this is their most pressing challenge. They will have to embrace this change and quickly adopt an "experiential" approach and use the personal data to create and augment a tailored offers and advice.
What were the key benefits to you of undertaking the IoD's Chartered Director Programme?
It has given me a much deeper understanding and knowledge of the Role and Responsibilities of a Company Director. I now have greater awareness of Individual and collective responsibilities of board of directors. In my Chairperson capacity it has helped me focus the board on what their responsibilities are and also helped create visibility and creditability in promoting the importance of becoming a "Learning Organisation".
What advice would you offer to new or aspiring directors in Ireland?
Start small and in an industry that you have existing skills. Do proper due diligence. Make sure your first NED role is successful as track record is important. Go for a Board where you can sit on a number of committees as this will broaden your board skill set. Commit to achieving Chartered Director status thus giving a clear message to all concerned that you are professional and serious about your NED role. Being a Chartered Director provides a very good foundation in all the skills you will need to be a Board leader.
What do you believe are the traits that are most lacking among business leaders today?
I base my list below on Agatha Christie's premise "Generalisations are seldom if ever true and are usually utterly inaccurate"
Vision is not something that is much needed or rewarded in our early careers but critically important to enable you become a successful business leader. It requires the skill to develop, demonstrate and communicate the vision to all concerned. In doing so you must demonstrate humility. You cannot do this on your own and have to inspire others to help and create the Vision. You have to be able to recognise emerging trends and construct for others what the picture could look like and move them to act.
What, in your opinion, makes a great leader?
When I think of great leaders I think of people like Abraham Lincoln, Mahatma Gandhi, Martin Luther-King, and Jean Monnett. They all had great vision, integrity, humility, strong communication and clear focus. These qualities together with self-awareness and ability to maximise the efforts of others towards the achievement of greater good.
(Published July 2018)