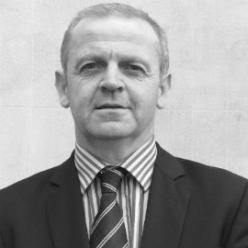 What has been your career highlight to date?
I originally qualified as an accountant with AIB Group after joining from university. At that stage I assumed that I would remain in an accounting and finance role in some shape or form. Based on a willingness to take on risks and to be flexible, my roles grew and evolved until I was became the first finance director within Belron to become Managing Director.
What qualities do you need to succeed in business?
You need a good work ethic to get through the mountain of work required to stand out from the crowd. You also need good people skills as, after a certain level an increasing part of your role is to inspire others to do great work because you can't do it all yourself. Finally you need adaptability as most marketplaces are constantly changing and you need to be able to turn your hand to many areas.
Who or what are your main influences?
I have learned something from every person I have worked for – some good and some bad. When I look at working in an unfashionable industry such as autoglass, I get inspired by the story of Michael Smurfit and how he grew Jefferson Smurfit Group from humble beginnings in Ireland. From a theoretical perspective, it is hard to beat the writings of Peter Drucker.
What is the most challenging part of your role?
The part of my job which is by far the toughest is to hire, engage and retain talented, hard-working people. Nothing else comes close to having the right people in the right place and in Ireland at the moment, this is getting tougher to do.
What, in your view, is the biggest challenge facing directors in Ireland today?
At a national level, there are increasing governance and data protection requirements to cope with. At a broader level, digitalisation is a constantly evolving challenge and from being part of a multi-national organisation, we are being challenged more and more on the issue of corporate and social responsibility (CSR).
What, in your opinion, makes a great leader?
Great leaders can come in all shapes and forms; introverts and extroverts, high level or detail-oriented. I think that there are four characteristics which most great leaders possess. Excellent communication skills, resilience to keep going through the tough times, a willingness to provide others with opportunities to develop and finally a huge customer-focussed ethos.
What do you hope to gain from your membership with the IoD?
A former mentor of mine told me once that anyone can learn from their own experiences but a wise person learns from other people's experiences. I hope to learn from the talks organised by the IoD as well as from the many networking opportunities.