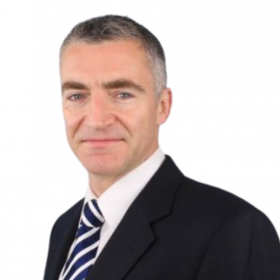 Why did you decide to join the IoD?
I decided to join in order to get involved in the area of governance. I wanted to attend meetings and presentations, gain insight into who was involved, how they interact and what their areas of common interest were.
What do you particularly value from your IoD membership?
The combination of meeting with other IoD members, sharing insights and experiences while also hearing from experts on relevant topics.
What is the most important lesson, from your personal or business life, that has guided you the most in being a business leader?
Just to persevere and be as resilient as possible throughout. Valuable qualities such as trust and confidence are all built up over time and gained with experience, there really is no short cut.
Is there someone who has had a major impact on you as a leader? Why and how did this person impact your life?
There isn't really one person I'd point to. Instead, I feel I have been impacted over a lifetime to date of experience around leaders in all aspects of life, not just in business situations. There have been positive and negative impacts and sometimes from the same leader - nobody is perfect. I think the key is to learn from them all, try to absorb the lessons learned and then look to apply the better practices in your own situations and, of course, avoid those negative behaviours as much as possible. It is important to learn from other people's mistakes as well as your own.
What is the one characteristic that you believe every leader should possess?
Common decency, as without that as an overarching trait, then everything else gets negatively skewed eventually. I think we are seeing plenty of examples of that in the world today.
What are the biggest business challenges or/and opportunities that you have seen over your career to date? And how did you help to overcome or/and optimise these?
The challenges and opportunities really tend to go hand in hand, in my experience. To reference a few, I've worked through the dot.com bubble bursting in the early noughties, the global financial crisis in 2008, the sovereign debt crisis a few years later, the COVID-19 situation more recently, and now we have high inflation, rising interest rates and a serious sustainability (ESG) challenge to deal with. There are challenges in confronting and working through these difficult situations. I think it is best to keep going with perseverance and resilience and try to stay positive, the opportunities tend to surface then.
How has your business evolved and adapted because of the COVID-19 crisis? Do you believe COVID-19 will impact your future business model?
The biggest evolution is the almost immediate move to working from home when restrictions were implemented. This has had, and will definitely continue to have, an impact on future business models, on how we interact with our colleagues, clients, service providers and key stakeholders. I think businesses are still trying to find the right hybrid model, the right balance, and there really is no 'one size fits all', so I think we are in that period now of trying to find the optimal path forward with this, but there is no going back to the way it was before the COVID-19 crisis hit in 2020. That ship has sailed, in my view.
How do you think business leaders can best prepare for the future?
By listening to their staff, clients and stakeholders and remaining open to adopting positive change measures in their business models to ensure that the business continues to be flexible and adaptable, which it has had to be since COVID-19 emerged in 2020.
What advice would you offer to new or aspiring directors in Ireland?
Get involved with the director community and upskill to learn the skills a board director requires to be effective as - although the skills, knowledge, and experience from a career in business are a very valuable foundation- there is another set required on top of this to be an effective board director. Complement this board director education with getting involved with a board, as there is no substitute for gaining direct experience.