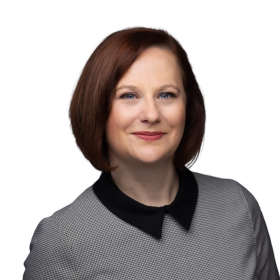 Why did you decide to join the IoD?
Following a funding round in 2007, our new executive directors recommended that I join the IoD to improve awareness of corporate governance.
What do you particularly value from your IoD membership?
I've really benefitted from professional development opportunities, in particular completing the Chartered Director Programme. This really gave me a wider appreciation of the roles and responsibilities of directors. I've found networking with other directors to be very beneficial. Despite differences in organisation size and focus, many directors face similar business challenges and there is lots to learn from talking to other directors.
What is the most important lesson, from your personal or business life, that has guided you the most in being a business leader?
In business and in your personal life, growth and mistakes go together. One of the most important lessons I've learnt is how to handle mistakes. As an entrepreneur and business leader, you need to take risks and sometimes do things you haven't done before. You won't always get things right.
It is essential to listen to feedback from customers and colleagues with an attitude of humility and own your mistakes. There's a certain bravery needed to handle things this way, but people are more willing to work with you to fix things if you behave like this.
You can use also use mistakes as a learning opportunity. Instead of beating yourself up, reflect on what you can do differently and try to never make the same mistake twice.
Is there someone who has had a major impact on you as a leader? Why and how did this person impact your life?
Early in my career I was lucky enough to have Richard Keatinge (former Chief Executive of Bank of Ireland Britain and MD of IBI Corporate Finance) as a mentor and adviser. At the time, I was a young tech-lead CEO with a lot to learn about finance and corporate governance. Coming from such a strong financial background, Richard was a great teacher. I learnt a huge amount from him about the importance of financial planning and corporate governance. He was a man of great integrity and brought a huge professionalism to the way the board operated. Richard has sadly passed away, but his advice made a lasting impression in terms of the importance of financial planning.
What is the one characteristic that you believe every leader should possess?
I think resilience is an incredibly important characteristic. It's impossible to predict the future but invariably there will be difficult situations when things don't go to plan. You need to be able to accept failure and quickly move forward positively. Your team will be looking to you to lead the way and give them confidence that there are brighter days ahead. Being able to navigate the storms while developing alternative strategies and staying positive is incredibly important.
What are the biggest business challenges or/and opportunities that you have seen over your career to date? And how did you help to overcome or/and optimise these?
Personally, I feel one of the challenges and also opportunities I've experienced is being a female CEO of a tech company in what is quite a male dominated industry (law enforcement and tech). As a woman, I've often found myself in the minority when networking with other business leaders, at tech events or at law enforcement conferences. I see this as an opportunity to be different and stand out from the crowd. On occasion, the depth of my insight and industry knowledge has sometimes surprised male industry colleagues. When this happens, people tend to remember me, and this is definitely a positive when it comes to business development.
How has your business evolved and adapted because of the COVID-19 crisis? Do you believe COVID-19 will impact your future business model?
We are a software company with a geographically dispersed team, so we were already set up for remote working before COVID-19. One of the great things that happened during the COVID-19 crisis is that our customers also moved online. Now they are happy to work with us on Teams calls instead of in person. This has enabled us to work more flexibly with them and have different members of our team engaging with customers in a way that just wasn't possible before.
How do you think business leaders can best prepare for the future?
I think strong financial planning is very important in terms of preparing for the future. In Saadian, we like to model a range of scenarios. We always know what our worst case scenario is and build up from there. It means we can be ambitious and plan for growth, but we also can be flexible and adapt if things don't go as well as we expect.
Talking to your customers about where their organisation is going is also vital. Your business needs to be aligned with the future needs of your customers to stay relevant.
What advice would you offer to new or aspiring directors in Ireland?
There are a few key pieces of advice I'd give - be brave, listen, and be honest. Any leader or director needs a certain amount of bravery to put themselves in a leadership position and to behave in a way that inspires others. You need to listen to the feedback of others – whether that be customers or colleagues and you need to behave with honesty, integrity, and authenticity in order to be a credible leader. As Ryan Holiday said, 'Ego is the enemy!'