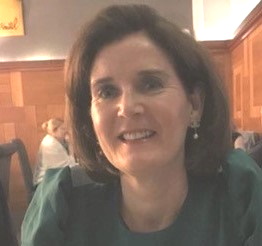 When did you become a member of IoD Ireland?
10 years ago. I was in Cohort 13 of the Chartered Director Programme.
Why did you decide to join the IoD?
A client encouraged me to join the IoD at the time, which I too have proposed to many others and, indeed, to undertake the Chartered Director Programme, over the years. I am passionate about my work and delivering a high standard of service, so I wanted to align myself to the IoD, whom I consider to have the most forward-thinking business leaders within its membership. Over the years, I have spoken at IoD events on different topics and in different capacities (i.e. in relation to my own business and my positions on boards).
What do you particularly value about your IoD membership?
The professionalism, governance and values the IoD bestows on its members; content of events for directors' CPD; and the social aspect of networking that many of us miss in our current times! I find IoD Ireland's website very informative, especially its Member Resources and Guidance tab, and being able to watch missed events. In essence, the IoD aligns to my values in the service I deliver so I get a lot from my membership of the body.
What is the most important lesson, from your personal or business life, that has guided you the most in being a business leader?
Live with integrity and purpose. Robin Sharma's quote comes to mind, "Leadership is not about your title, it's about your behaviour." When appointed to the Board of the CRC in early 2014, integrity and probity were integral to all of us as the newly appointed directors at the time. The importance of oversight on a grass-roots transformational review was key to ensure the CRC's governance was, and is, appropriate and represented the highest standards of best practice. I recall us spending many hours and meetings considering vision, mission and values alone, which were so important as foundations for strategic planning bearing all stakeholders involved.
Is there someone who has had a major impact on you as a leader? Why and how did this person impact your life?
I had the pleasure of working with the late Dr. Mary Redmond. She was an exemplary lawyer, academic, author, stellar and inspirational charity leader, and a person who led by example throughout all areas of her life and interests. I worked with Dr. Redmond at an early stage of my career and she always inspired me, most so with her immense presence. I cherish the contact that I kept with her prior to her premature passing.
What is the one characteristic that you believe every leader should possess?
Integrity – do the right thing; do things right. It is important to watch the horizon whilst also overseeing the bottom line. I put an acronym PASS on my IoD Chartered Director studies – oversee Policies, Accountability, Supervision of all resources and Strategy – and nearly 10 years on I still abide by these.
What are the biggest business challenges or/and opportunities that you have seen over your career to date?
My earliest opportunity was in my twenties when I was made redundant from Statoil and took the opportunity to work for myself providing outsourced HR services. It was a challenge, yet one that I embraced, leading me to work in very diverse sectors such as aviation, financial services, healthcare – nursing homes and private hospitals - power generation, education, and telecoms, all within a very short window. I have been an avid believer in CPD and this has benefited both my service offering and networks, with becoming a Chartered Director being a pivotal example. Another specific opportunity was my appointment as the Independent Adjudicator of the Law Society, which is a statutory position, and looping my legal office experience whilst working with Dr. Redmond as a lay person with my people management compliance experience.
And how did you help to overcome or/and optimise these?
I kept, and keep, mental agility with my CPD and wellness. I have always been keen on exercise and think it helped my stamina over the years, particularly since most of my work is on contentious matters. I learnt to separate matters and tasks, and try not to let them worry me. To deliver a robust service that attests to my values, I have had to form good bases for my judgement and actions. Relationships were, and are, to the core of my work and having a strong HR background with the Chartered Director accreditation has added to the core of my company's services and directorships to date.
How has your business evolved and adapted because of the COVID-19 crisis? Do you believe COVID-19 will impact your future business model?
Over the two decades I have been self-employed, I have steered around many corners of the ever-changing business landscape. Embracing change is critical, which our current COVID-19 times has encouraged us all to do. Having had an office on Pembroke Street for 13 years, COVID-19 led me to work from home permanently and have a better life-work balance. This has been very effective for me to see and focus on wood from the trees. I am both positive and optimistic by nature and fervently believe that our pre-COVID halcyon days will return, however, with better personal and business focus, kindness to each other and to the environment, and encouragement for us all to live with robust purpose as, firstly, individuals and, secondly, as leaders inspiring others.
How do you think business leaders can best prepare for the future?
Read widely, such as books outside areas of interest, regular listening and reading of international newspapers such as the Financial Times. Network safely in person in due course, dedicate time for a meeting with yourself every week to check in with yourself on what you do, where you are going and how you can be a better self – as a leader of yourself and those you guide and direct. Undertake the IoD Chartered Director Programme, not just to get the CDir qualification but to keep fresh on the programme's aggregate knowledge and enhance your network in a cohort outside your normal collegial network. If you are already a Chartered Director, I recommend that you submit your CPD record regularly to IoD to keep focus on your experience log.
What advice would you offer to new or aspiring directors in Ireland?
What you sow you reap, so reach out strategically and have conversations with those who can share their journey for your learnings. Learning is a journey not a destination: we are all on a journey and our attitude determines our altitudes so keep a positive mental attitude. Display high standards of integrity and probity regarding governance, culture, values, behaviours and sustainability. When appointed to a first board, or indeed a new board, spend time with the company secretary and keep on top of your obligations as a B10 director. Remember: people like to be surrounded by positive people just like you!

(Published on 5th May 2021)