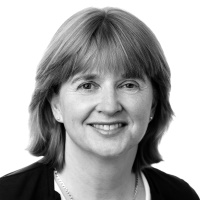 Why did you decide to join IoD Ireland in 2013?
I joined the IoD Ireland to broaden my horizons. IoD Ireland presents the opportunity to meet fellow directors from other industries and areas of speciality. Networking with these directors ensures that I learn from others, I can exchange ideas and as a body we can influence the agenda and shape of public policy.
As IoD Ireland celebrates its 30th Anniversary, do you have any particular memory of the IoD you would like to share?
I have a very particular memory of the presentation given by Dr Catherine Day on Brexit - The Implications for Ireland and Europe, back in 2018. Dr. Day's presentation was insightful, giving us the benefit of her knowledge of EU matters.Dr. Day was able to summarise appropriately the political position at a time when the volume of information in media channels was overwhelming. She also pointed out some key milestones ahead and I found this insight ensured that I could follow the key milestone events as they emerged and was able to ignore much of the political distractions.
What is the most important lesson, from your personal or business life, that has guided you the most in being a business leader?
Life will be stressful and sometimes decision making may be challenging. This can be especially true when you are young and do not have much life experience for reference. The most important guide that I try to always use when making tough decisions is always remain honest and retain integrity as trust will be maintained with your team and this trust will carry you through the challenging times.
Is there someone who has had a major impact on you as a leader? Why and how did this person impact your life?
Unusually, my mother paved much of the way for my career.Although she qualified as an architect she pivoted into education and ran the School of Engineering for a 3rd level institution. Despite the low level of females entering the technology sector, I had the good fortune to observe my mother's successes so I never doubted that I should follow my passion. I could see how this would lead to a fulfilling career regardless of cultural norms.
What is the one characteristic that you believe every leader should have?
Honesty as it leads to trusting relationships.
As IoD Ireland celebrates its 30th Anniversary, what would you hope for the future of governance and leadership over the next 30 years?
I believe I have been fortunate in my career to observe the leadership teams in Ireland transform as Ireland has transformed and opened our business and economy to the world. I would hope that progress is made to achieve better gender balance across leadership teams and to ensure we are inclusive to minority communities. This just makes sense for us as a society but it's also good for business as we are customers too.
What do you particularly value from your IoD membership over the last 10 years?
I value the chance to network and learn, and especially learn how to operate effectively at a leadership level.