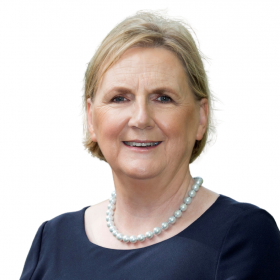 Why did you decide to join the IoD in 1998?
I was appointed to the Board of the IDA in 1996. This was an opportunity to work with, and learn from, wonderful people including Kieran McGowan, CEO, Marie O'Connor, already a Board member and with whom I later set up the 30% Club in Ireland, and Gary Kennedy, appointed on the same day as myself and with whom I served as inaugural Co-Chair of Balance for Better Business from 2018 to 2021.
Sadly, Gary passed away recently and will be greatly missed by those who had the pleasure of working with him.
Conscious of the important role of Board members in both overseeing and supporting the work of this dynamic organisation, I undertook relevant training courses and joined the IoD, an organisation dedicated to supporting directors.
As IoD Ireland celebrates its 30th Anniversary, do you have any particular memory of the IoD you would like to share?
Gary Kennedy, who was a Council member of IoD Ireland, made a terrific contribution to the IDA Board during his ten years of service, bringing his insights, experience and commitment to bear in supporting and overseeing the organisation's work. Gary was a strong believer in the benefits of gender balanced leadership and was among the initial members of the Advisory Board when, with Carol Andrews, Marie O'Connor and others, we established the 30% Club in Ireland in 2015.
Together with a small number of well-respected company Chairs, Gary supported our engagement with business leaders. He believed that female talent was an under-utilised economic resource, which aligned closely with my own view.
As Co-Chair of Balance for Better Business, he provided an example of inclusive leadership in his own business activities and was really effective in collaborating with me and others to influence and drive change. Our focus was on the benefits to be gained from the talent of 50% of the population as well as the proven value of diversity of ideas, perspectives and experience. I know Gary was pleased to see that both the 30% Club and Balance for Better Business brought new drive and momentum to this important issue, evidenced by the female percentages on the boards of Ireland's leading 20 companies, growing from 12% in 2015 to 18% in 2018, when Balance for Better Business was launched, and to 30%, when the Co-Chair roles passed to Julie Sinnamon and Aongus Hegarty in 2021. We strongly believed that setting targets, active and sometimes challenging engagement, and reporting on progress for boards and executive leadership are key to achieving, deepening and accelerating change.
What is the most important lesson, from your personal or business life, that has guided you the most in being a business leader?
Taking the next step is the most important thing to make progress: waiting to have absolutely all the information possible or the perfect solution is generally neither the best option nor necessary. Voltaire said this elegantly in French, put simply: 'Don't let perfect be the enemy of good' - also sometimes expressed as the 80/20 rule. This does mean you sometimes have to adjust your plans; in my experience, the learnings from those first few steps have always helped more than waiting for further analysis or data.
Is there someone who has had a major impact on you as a leader? Why and how did this person impact your life?
The late Joe Maher, ESB Finance Director when I joined in 1997, was a key influence in my decision to do so. Joe retired early in 1998 but remained as Chair of the ESB Pension Fund Trustees so I had regular contact with him and saw his style of engagement. Joe, a true believer in equality of opportunity, recognised the value of diverse thinking and perspectives. He challenged one's thinking and approach, while also welcoming alternative views: excellent qualities in a Chair. Joe was a champion of women in the workplace and empowered many women within ESB and beyond to fulfil their potential.
What is the one characteristic that you believe every leader should possess.
The humility to accept that others generally know more than you do and that this is a good thing. As a leader, it is important to realise that the way to success is to work with smart and committed people who believe in your mission, to challenge their thinking when appropriate, to drive performance but ultimately to make sure that you empower them to deliver. Humility is also needed when you get things wrong – plan B is often called for.
As IoD Ireland celebrates its 30th Anniversary, what would you hope for the future of governance and leadership over the next 30 years?
I look forward to a time when leadership in business and in other decision-making areas will be genuinely gender balanced and diverse, reflecting society in every way. I believe that this will contribute to more effective governance, decisions, and improved outcomes; all essential to address the challenges facing us nationally and globally. Progress is being made in some respects, but much remains to be done to accelerate, deepen and broaden this.
What do you particularly value from your IoD membership over the last 25 years?
Apart from the formal education programmes offered (for example, the Chartered Director Programme), the less formal and 'bite sized' updates (whether Lunch Bites @ the IoD events or webinars in the past few years) provide great opportunities to learn from others and keep up to date with important topics and developments.