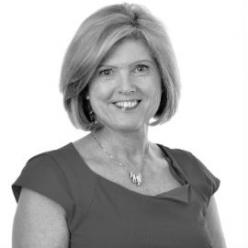 About you and what you do
Angela Keegan has been Managing Director of MyHome.ie, Ireland's leading online property website for six years. She joined MyHome.ie in 2005 from telecoms
operator EsatBT where as Director of the SME and Residential business she was a member of the senior management team for over 7 years. Previously Angela was Managing Director of the internet business Esat Clear. Prior to her career in the telecoms sector she worked in the computer and financial services sectors. In her downtime she enjoys running, swimming and catching up with friends.
What business accomplishment are you most proud of?
Dealing with the fallout of the property crash was a major challenge but in the deepest darkest throes of the recession we realised we had to change our business model from one which focused on advertising to one which focuses on providing a set of business solutions to our Estate Agent clients. Realising and doing are two very different things and I'm very proud of the fact that we committed to delivering the changeover and positioned the business to take advantage of the growth opportunity as the market recovered.
What is the most challenging part of your role?
Because technology and innovation are at the heart of what we do we are constantly evaluating the latest trends both at home and internationally. There are lots of opportunities out there, but the challenge is making sure you back the right trends and the right technology.
What in your opinion, makes a great leader?
I think it's having the ability to bring people with you, of getting them to share the vision. Of course you also have to have the vision in the first place and the determination and acumen to make it happen.
What are MyHome.ie's business priorities for 2016?
Every day we look at how we can enhance our service to consumers and our business customers. It's always about the customer. For consumers it's about using technology to make the journey to finding or selling a home as rewarding as possible while for agents it's about providing as many leads as possible and making sure they have access to the best and most up to date information on the housing market via our regular property reports.
How, in your opinion, can the issue of housing shortages best be addressed?
I think everyone is agreed that we have a massive supply problem and until we increase our output to the required 25,000 units per annum the current crisis is going to persist. That's the short hand answer. What to do until we get to that level on a sustained basis is the real challenge and will probably require one person with overall responsibility to pull all the different elements together. The issues in social housing, affordable housing, with first time buyers and for those downsizing are all different but interconnected. For example the Central Bank's new lending rules were very effective in curbing inflation but they have had a huge knock on effect in the rental market and social housing. Right now 2.6% of our housing stock is turning over every year when it needs to be at least 4%. The success or failure of the new government may well rest on how it handles this crisis.
What changes can we expect in house prices nationally over the remainder of 2016?
House prices are starting to rise again as activity in the housing market picks up. Based on the finding or our Q1 Property Report, published in association with Davy, we expect to see low single digit growth in Dublin, with prices rising by just over 5% in the rest of the country.
While affordability, supply issues and the Central Bank's lending rules will limit price increases in Dublin, it is fair to say that there is scope for more growth around the country, especially in other urban centres.