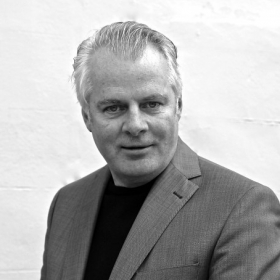 Since joining the IoD, how have you benefitted from your membership?
As a 'creative', I initially felt like a fish in the wrong pond, but soon realised that all Directors share the same issues regardless of their sector and can benefit from the sharing of ideas. Now I feel more comfortable in the company of accountants and lawyers!
Is there someone who has had a major impact on you as a leader? Why and how did this person impact your life?
The fashion designer Paul Smith has always been a hero, and I had the opportunity to invite him to speak in Dublin a while back. How he effortlessly inspires and motivates his team is something I have tried to emulate. He relaxes everyone in his company.
What are the greatest challenges you and your business have faced/are facing due to the COVID-19 crisis?
Trying to keep a sense of togetherness amongst our team of 16 while working remotely and the challenges inherent in that.. In our work, we like to spend time sharing ideas and potential solutions to client problems. The best solutions come from open collaboration. Zoom calls can only go so far!
How has your business evolved and adapted as a result of the COVID-19 crisis?
We used to encourage working from home when you wanted some peace and quiet to think! Now, we encourage a few of the team at a time to return to the studio to work in peace and open collaboration. We're working on finding a balance that provides a better lifestyle for all while, at the same time, maintaining a high level of creative energy.
Has working through the impact of the current crisis on your business made you review your business model? Will it change in the future?
Our business model is like an airplane. We have clients in First Class, Business Class and Economy. We've lost most of our Economy passengers, retained most of our Business and all of our First Class. We can continue to fly the plane on this basis. In the future, our aim is to develop more Business Class clients and not chase Economy clients. This means being braver and maintaining our value pricing model.
Is there one key piece of learning/advice you would give to fellow business leaders on how to deal with the COVID-19 crisis?
COVID presents a once-in-a-lifetime opportunity to recalibrate your business and indeed your life. Use the time well to reappraise what norm you actually want and what works for everyone on your team. As leaders, we are responsible for ensuring that a company serves the employees and not the other way round.
What is one characteristic that you believe every leader should possess?
In a word… humility.
What advice would you offer to new or aspiring directors in Ireland?
Being a director is not for everyone. We all look to leaders for the answers. If you're not comfortable in the spotlight, find a colleague who is and celebrate them. Your position in the company will become stronger as a result.
(Published July 2020)