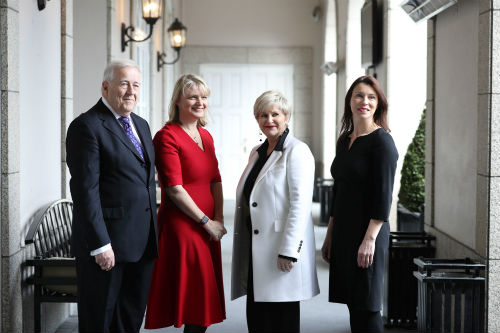 Pictured is Michael Somers, President, Institute of Directors in Ireland, Sinead McSweeney, Managing Director, Twitter Ireland, Maura Quinn, Chief Executive, Institute of Directors in Ireland and Aine Brolly, Founder and Director, Ardlinn, sponsor of the event.
Addressing an audience of 300 business leaders at the IoD Spring Lunch in Dublin, Sinéad McSweeney, Managing Director of Twitter Ireland and VP Public Policy and Communications EMEA, spoke candidly of her own leadership journey and the importance of authenticity as a leader.
Watch our video of the IoD Spring Lunch 2018 below:
Beginning her career in politics as a parliamentary transcriber and special adviser, she moved to policing, as communications advisor for the PSNI and An Garda Síochána, before taking up the role of Managing Director of Twitter Ireland where she leads a team of 250 employees in Dublin.
Sinéad spoke passionately about managing millennials and their quest for impact – for a footprint bigger than your foot – and their heightened sense of community impact and helping others.
"Instead of criticising the constant need for feedback and drive to achieve more and more, earlier and earlier - we should seek to channel and foster that ambition but also care for those who have it. Rather than being irritated or frustrated by millennials I find myself increasingly worried and concerned for them.
"Young people's expectations of success and fulfilment are increasing and their timeline for achieving that success is decreasing. We need to change the perception of progress - it is not always about the next grade, or level or a bigger title. It is about recognising the scope of development and growth; the definition of success needs to evolve. Not everyone can be CEO; but everyone can be successful," said Sinéad McSweeney.
The IoD Spring Lunch took place on Friday, 23rd February in the InterContential Hotel, Dublin, and was kindly sponsored by Ardlinn. Read more on irishtimes.com and independent.ie.