The annual IoD Christmas Lunch took place on Friday, 8th December, at which we welcomed 500 members and their guests to the festive surrounds of the InterContinental Hotel in Ballsbridge, Dublin, with Colm O'Regan and Barry Murphy providing the entertainment.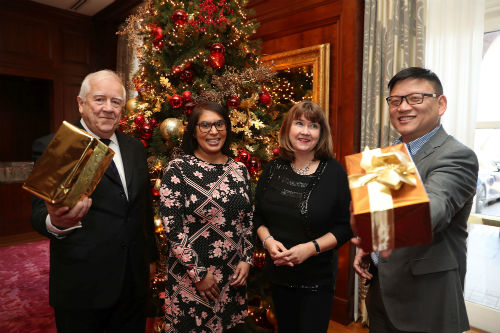 Pictured are Michael Somers, President of IoD Ireland, Harpreet Sandher, Diligent, Thora Mackey, Chief Operating Officer, IoD Ireland and Andy Dy, Diligent.
This year's charity raffle, in aid of Merchants Quay Ireland, homeless and drug services, raised €18,000 and our sincere thanks to everyone who gave so generously on the day and to the members who donated prizes in advance. We look forward to presenting this donation, on behalf of our members, to such a worthy cause.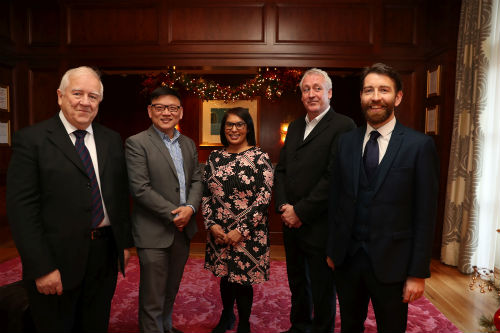 Pictured are Michael Somers, President, IoD Ireland, Andy Dy and Harpreet Sandher, Diligent and comedians Barry Murphy and Colm O'Regan.
Thanks also to our sponsor, Diligent, for their support for the fourth consecutive year as sponsor of the IoD Christmas Lunch.