Expert analysis from Caleb Kyle, Non-Executive Director, Plan Ireland.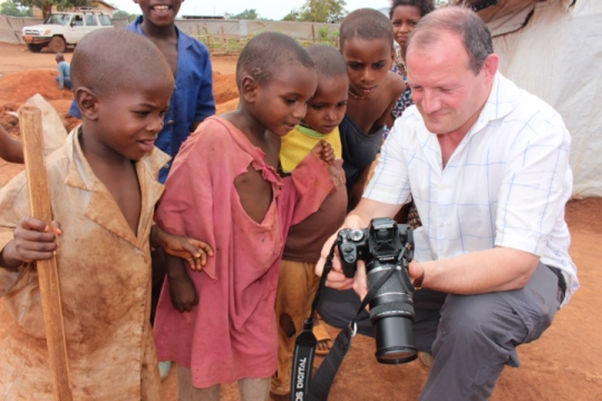 Caleb Kyle, Non-Executive Director, Plan International Ireland, on a recent site visit to Cameroon
Arrived in Yaoundé at the in-between hour of 3.15am. Too late to bother with getting a hotel so we wait until 6am when it is deemed safe to drive. Most NGOs don't permit driving outside of urban areas in darkness. It's the wet season in Cameroon. Lush, cool, 20 degrees. Like a good Irish summer's day. Within a couple of hours, it is sunrise and we're on the road headed east towards Bertoua.
Every second truck has Mahogany and other hardwoods. A lot of French companies have won logging rights contracts. Part of the deal is for them to do development work on behalf of communities where they are logging and re-planting, but communities aren't always happy with their commitment. Red dusty soil is matted down by the rain. Long grasses infringe onto the roads to the extent that when big logging trucks pass we're nearly pushed into the over-growth.
Plan has been working in Cameroon since 1996 but finds it hard to secure long-term development funding for Cameroon as emergency responses are commanding all of the attention. These funds are needed so that communities can transition out of emergency situations and begin to rebuild their lives.
We continue east towards the Cameroon border. This time we're on dry, dusty roads full of ruts and crevices. We succumb to a puncture but the four wheel drive manages the terrain easily and we eventually arrive at Timanogolo Camp, a sprawling refugee camp, home to 7,500 people and managed by the UNHCR.
Our journey, uncomfortable at times, is nothing in comparison to the journeys being made by thousands of people fleeing the conflict in the neighbouring Central African Republic (CAR).
All in all, there are 229,000 refugees from the Central African Republic living in Cameroon. Refugees have been coming to Cameroon from CAR since 2004 but over the past 12 months, the numbers have doubled. On the day that we visited, over 80 new families arrived, having made the tough, arduous and often dangerous journey from the CAR.
Many of the long term refugees have assimilated into the local Cameroonian population, as both communities come from the same Fulani people, but there are still six camps with up to 40,000 living in each.
The camp is a sea of plastic sheeting. Thousands of people, many of them vulnerable children, living in very cramped, uncomfortable and unsafe conditions.
In these difficult circumstances, basic humanitarian needs are prioritised and rightly so. But there comes a time when we need to move on and start looking at the long term effects of living in refugee camps. That's why Plan has developed 11 temporary learning spaces. Safe spaces where boys and girls aged 5-13, are receiving basic, yet crucially important, education services. For many of these girls, this is their first experience of education as education was not an option for girls in CAR.
Many of these children have been traumatised by the events in CAR and the terrible escape they had to make which has taken months for some. Plan counsellors are there to make sure that they adjust to their new circumstances.
Child friendly spaces have also been constructed to provide children with a safe environment to play in and live life as a child. This is so crucial if we are to help children learn and develop in this new environment.
There is a sense of permanence in the camp with plans to put concrete flooring on the classroom floors. Animal husbandry with goats and chickens is beginning to flourish.
During our visit to the camp, we see focus groups comprised of men and women meeting to discuss issues that are affecting their lives. This is bringing about changes in how the men view issues such as education for girls. There is a desire to reduce their dependence on Plan and the UNCHR so they talk about ways to set up income generating activities. Without their own incomes, children will be forced to work rather than going to school, perpetuating the cycle of poverty.
Despite the daily challenges that come with living in a refugee camp, there is a deep sense of pride. So much so, that the children presented my colleague Suzanne and I with bouquets of flowers made from discarded plastic and tissue paper.
The support of the Irish people, through Irish Aid's Emergency Humanitarian Assistance Fund makes me incredibly proud. We're on a journey with these vulnerable people. It can be heart-breaking at times but our experience on the ground over the past 78 years gives us the confidence to keep going.
Caleb Kyle is a member of the Institute of Directors in Ireland and a Non-Executive Director with Plan International Ireland. For more information on Plan International Ireland, please visit www.plan.ie or call 1800 829 829. Sponsor a Child in Cameroon.
The views expressed in the posts and comments of this blog do not necessarily reflect the views of the Institute of Directors in Ireland. They should be understood as the personal opinions of the author. The content of this blog is for information purposes only and the Institute of Directors in Ireland is not responsible for the accuracy of any of the information supplied.