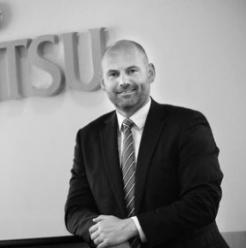 Tony was appointed CEO of Fujitsu Ireland in July 2015. Tony joined the company in 1998 and prior to taking up his current role, held the position of Customer Accounts Director.
What was your first job?
I worked weekends and holidays in a farmer's hardware and grocery store for most of my teenage years - a great insight into hard work and customer service.
What is the best business decision you have ever made?
Not a once-off decision, but I am a strong believer in proactively managing my career and have sought to seek new roles and opportunities every 2-3 years. My business approach is similar, whereby it is important to have a plan and undertake regular review to achieve longer term targets.
What is the most valuable professional lesson you have learnt so far?
Of all the professional lessons learnt so far, the one that stands out for me is that a fear of failure will ultimately hold you back. Simply put, everything is not going to go right all the time but that shouldn't hold you back from experimentation and endeavouring to do something differently. The fear of making a mistake will ultimately inhibit future success so the important thing is to ensure that you take key learnings from any mistake and grow from there.
What, in your view, is the biggest challenge facing directors in Ireland today?
Retaining existing and attracting new talent.
Who do you look to for inspiration?
My main source of inspiration comes from my family, quite simply they are the reason why I do what I do. My colleagues also provide me with the motivation and encouragement to develop, change, and ultimately succeed.