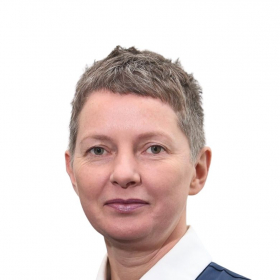 What has been your career highlight to date?
A recent career highlight has been establishing my own Governance Coaching practice, Wisdom and Vision Ltd. My background leading to specialise in this area was another highlight - working on 60 Wall Street, New York City where I served as Vice President, Global Change Management Lead supporting the global group-wide Outsourcing Governance and Vendor Risk Management framework with Deutsche Bank.
What qualities do you think a business leader should have to succeed in business?
The most sought-after quality of my clients is confidence. As we work together and their confidence increases, they become much more comfortable with the art of delegation, developing a succession plan, and raising their visibility and that of their teams. Greater confidence also supports the expression of independent thinking - trusting their intuition and expressing their wisdom in an appropriate manner – and shows greater strength and resourcefulness.
What is the most important lesson, from your personal or business life, that has guided you the most in being a business leader?
Knowing when to get support in order to have good self-governance in life and as a business owner is key. I engaged my first coach in 2010 which opened my eyes in a new and insightful way, and it prompted a major life-change for me. Currently, I am in a long-term collaboration with an experienced coach which provides me with a solid sounding board in order to structure, prioritise and implement my ideas.
How do you think business leaders can best prepare for the future?
Leaders can prepare for the future by putting appropriate structures, resources and supports in place to create more space which helps them think more clearly and make better-informed decisions. Thinking more clearly and making better-informed decisions helps leaders feel more confident and secure and they have a much greater capacity and resilience to identify, prioritise and take on greater opportunities.
What, in your opinion, makes a great leader?
A great leader has a full overview of what is going on, is adept in the art of delegation and supports people to work to their strengths steadily in line with the company vision. A great leader takes a step back at least once a month to recalibrate and re-anchor to the purpose, evaluate what has been achieved, identify where gaps are, where struggles have popped up and get energised, clear and stronger to move forward. Having the strength to reach out to an independent sounding board and being willing to ask for help is key, knowing that they do not need to solve everything alone.
What do you value the most from your IoD membership to date?
I value the resources including the Director Factsheets as a useful source of industry and regulatory updates.
I appreciate the knowledge sharing during live and online events. I am very happy to have met some members at live events and I hope to attend more of those going forward. Now that I am travelling abroad again, I appreciate access to the airport lounges particularly Dublin and Copenhagen.
What do you hope to gain from your membership with the IoD?
I value having access to a high-calibre network of directors and business leaders and I would love to connect with more of the members. Having lived abroad for two decades in countries such as The Netherlands, Belgium, UK, Germany, USA and Denmark, I really appreciate being part of the Irish community.