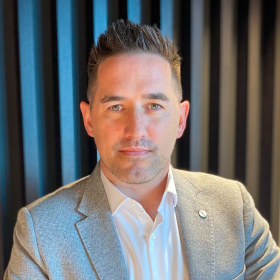 What has been your career highlight to date?
In 2012, I spent two amazing years leading joint client-consultant teams at GlaxoSmithKline (GSK) and transforming their Consumer Healthcare business. We simplified organisational structures, acquired and integrated category winning brands, and ensured a greater focus on science and R&D. I was hugely honoured to be nominated by senior GSK leaders for the UK's Consultant of the Year award, conferred by the Institute of Consulting and Chartered Management Institute. And delighted to win it! The experience stretched me, raised my profile and was the catalyst to a move to Dubai, where I spent eight wonderful years leading retail focused digital transformation.
What qualities do you think a business leader should have to succeed in business?
I have been fortunate to work with leaders who had the sense to surround themselves with outstanding people, giving them the platform to take the business forward without restraints, in new directions and in new ways. They didn't let ego get in the way and recognised the need to bring new skills and innovative approaches. It was inspiring and something I have sought to continue. I am passionate about hiring people who bring new expertise and perspectives and shape the collective value proposition. Then, the attention is focused on ensuring candidates share our passion, vision, purpose, and organisational values.
What is the most important lesson, from your personal or business life, that has guided you the most in being a business leader?
I have come to realise a lot of time was wasted closing what I perceived as skills gaps. A business mentor helped me to realise that identifying my strengths, recognising them, and making best use of them would be far more effective. This 'strengths-based leadership' helped me also look differently at the people and teams around me. The most successful teams possess a broad range of abilities and when you know each of your team members' key strengths, you can let them focus on certain things, you on others and, in this way, it benefits the team as a whole.
How do you think business leaders can best prepare for the future?
The COVID-19 pandemic has upended business in Ireland as we know it. As we seek to 're-open' for business, we should acknowledge learnings for business. There is an opportunity for leaders to reimagine their organisation's identity, how it works, and how it grows in this new world. The first step is to lead with empathy and compassion as you reconnect and reenergise your teams. Out of every crisis lies opportunity and you can engage your people, tap into their expertise and insights, and jointly imagine new systems and ways of working that are flexible, integrated, productive and more human.
What, in your opinion, makes a great leader?
The breadth of great leaders illustrates there are many potential answers to this. At Gate One, I am focused on hiring and assembling future great leaders. To do this, I am seeking to create the most enriching, challenging career journeys for prospects – based on a core employee value proposition of autonomy, mastery and purpose. I believe we have a differentiated offer in Ireland for business transformation consultants – with an open, ambitious, inclusive and thought-provoking work environment that allows them to do their best work for our clients, continually learning and developing to maximise their own potential.
What do you value the most from your IoD membership to date?
I have been hugely enthused by the quality of speakers, insights and inspiration from the exclusive events I have attended to date. In addition, I have come to realise the fantastic supporting resources and materials provided that are tailored to the specific challenges faced by directors in Ireland.
What do you hope to gain from your membership with the IoD?
I returned to Ireland from Dubai in 2021 to launch Gate One Ireland with my colleague Anthony Gaffney and to reconnect with family and friends of old. Having been a committee member of the Irish Business Network in Dubai and several other business and social networks, I know the importance of networks to my professional and personal life. With my new role and life in Ireland, joining IoD Ireland was an important step in giving me the opportunity to connect with, learn from, and contribute to Ireland's leading business leaders and directors.