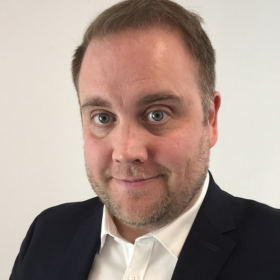 What has been your career highlight to date?
I've been lucky enough to launch two new businesses successfully (one in Dubai covering MENA region) and more recently with ECI Energy. The highlight for me really came after the first year when our new energy team looked back and reviewed over fifty projects which we had won and delivered together. When we actually stopped to reflect we got very excited about the future potential for the business. It also proved what we had initially thought was a huge gap in the market.
What qualities do you need to succeed in business?
I think you need a risk-taking mindset more than anything else. If you have this naturally and you're calculated enough it will feed into the other critical areas which you need to work in order to succeed. For example, you take a risk hiring a team or taking on investment or choosing strategic partners or deciding what large tenders to go after. Every single day in business is a risk, I think that's part of the excitement of it. Some other key qualities which I believe you need is a willingness to delegate, a level of emotional intelligence to get you through the challenging days, trust in the team and in your own intuition, a genuine excitability about what you are trying to do and maybe most importantly a good network of people around you from outside the business - friends, family, partner etc.
Who or what are your main influences?
I have two people who I follow quite closely. One is Elon Musk and the other is Mary Robinson. I think with Musk people thought he was off his head for a very long time but he has proven that his technology is a key enabler to the advancement of humankind and that he is not a one trick wonder. The scalability and market penetration of Tesla and SpaceX is just incredible to watch. With Mary Robinson I admire her sense of urgency when it comes to the Climate Change crisis which we have allowed to happen. She has a high level of empathy and if more politicians led like she does the world would be a much better place.
What is the most challenging part of your role?
The fact that I have to deal with so many different things on any given day. Like any general manager it is sometimes hard to get the headspace to jump around from finance, sales, marketing, HR or unforeseen operational issues and still have some time out to work on scaling the business as opposed to just working in it.
What, in your view, is the biggest challenge facing directors in Ireland today?
We are in the middle of the Covid-19 public health emergency, and this year I think that disruption will be the biggest issue facing all businesses. The Brexit issue has gone away overnight and now we are trying to ensure the health and safety of our staff with an invisible threat while trying our best to ensure our business is ready to ramp up again when this is all over. It's an enormous issue and came like a bolt of lightning on a sunny day.
What, in your opinion, makes a great leader?
The lack of ego, flexibility, emotional intelligence, hard work, a desire to help others achieve their professional and personal goals, stubbornness, vision, being date driven, asking and answering the hard questions, planning, scheduling your time efficiently and maybe most importantly, being able to self-correct quickly when going down the wrong path.
What do you hope to gain from your membership with the IoD?
I'd like to meet like-minded people who have an interest in business and also get the opportunity to network with them and maybe win a project or two!