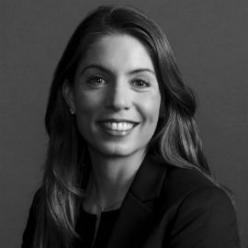 What was your first job?
My first job was the Assistant to the Branch Manager at Smith Barney in NYC, who interviewed me for the Financial Advisor job that I didn't get. It became clear to me in the interview that I had neither the contacts nor the experience I needed to get the job I wanted, so I decided to be bold and told him that if he gave me an opportunity to prove myself, I would. Thankfully, it worked out for me.
What is the best business decision you ever made?
The best business decision I ever made was to hire a coach. As I like to say, I'm a 'practiced extrovert', but an introvert by nature, so I've had to learn how to work effectively in what's been coined an "extrovert's world". I've worked with coaches throughout my career to help me with challenges and opportunities, ranging from job preparation to leadership development and more recently public speaking.
I think I have the benefit of being American in this case as coaching is seen as progressive and growth-orientated where I come from; whereas coaching in Ireland still seems to have somewhat of a negative connotation or is thought to be more for remedial purposes.
What is the most valuable professional lesson you have learnt so far?
When I was young, my father taught me the saying "Ask you get, don't you won't." Applying this principle to my professional life has been hugely valuable, both quantitatively and qualitatively. From asking for more money to asking to lead big projects that get me excited about my work. If you never ask, it's always no.
What, in your view, is the biggest challenge facing directors in Ireland today?
Addressing the lack of diverse thinking and experience around the table is a big challenge facing directors all over the world. There are several studies provided by various research organisations correlating diversity with stock performance and other important metrics, so the benefits are clear. The real challenge for Irish directors, in my opinion, is finding enough qualified board-ready candidates. I, for one, don't consider myself fully qualified and ready to contribute meaningfully to a board, but I'd like to be in a position to as soon as possible, which is why I joined the IoD.
In five words describe your work style
Self-driven, collaborative and kind.
Who do you look to for inspiration?
First, I have to say that TED.com is my go-to source for inspiration - I'm a TED Talk junky! But if I have to choose one person, it would be Sallie Krawcheck. I've worked under her leadership twice and have come to really admire her authenticity and drive. I'm also a huge fan of what she's doing to empower women everywhere through her Ellevate network and her new company, Ellevest.