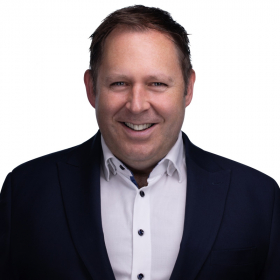 Why did you decide to join the IoD?
I joined the IoD as I saw it as an organisation which provided relevant expertise and insight on important key issues, as well as giving me an opportunity to meet some interesting people and build my professional network.
What do you particularly value from your IoD membership?
Prior to COVID-19 I really valued the networking events which had great speakers with relevant topics. Since the COVID-19 pandemic commenced, I think the IoD have really adapted to the new normal by utilising online platforms to continue to provide excellent speakers on relevant topics.
What is the most important lesson, from your personal or business life, that has guided you the most in being a business leader?
I believe you should treat people the way you would like to be treated and not expect anyone to do what you would not be prepared to do yourself.
What is the one characteristic that you believe every leader should possess?
I think the late Steve Jobs captured this perfectly – the ability to inspire people to do things they never thought they could.
What are the biggest business challenges or/and opportunities that you have seen over your career to date? And how did you help to overcome or/and optimise these?
In my earlier career, I managed large sales teams during which we encountered difficult market conditions. Those who know me best will know that I am very persistent and always look for the opportunities in the challenges. This helped my team and me to grow the business during market decline on a number of occasions.
How has your business evolved and adapted because of the COVID-19 crisis?
COVID-19 has presented many challenges to the executive search industry. It has resulted in fewer vacancies, recruitment processes going on hold and searching for candidates a lot more difficult as people are reluctant to move position in the current climate. One area that has seen an upsurge in demand is leadership development and executive coaching as leaders and managers need support in managing people and businesses during this time of uncertainty. We will shortly be launching a practical set of tools called "Psychology In A Box", which will enable leaders to identify when they are at their best and what energises them even when the odds are stacked against them. This will help them better understand what drives and fuels the passion and energy of their teams. As we emerge from these tough times, positive psychology can be a highly practical way to navigate change and transformation where leaders know how to engage their teams, coach them and take them through unpredictable times.
What advice would you offer to new or aspiring directors in Ireland?
I think it is important to identify a number of successful leaders who inspire you and try to learn from their success and how they achieved it. Networking is also particularly important in terms of building up a strong network of like-minded people with whom you can give and receive advice and support.
(Published September 2020)