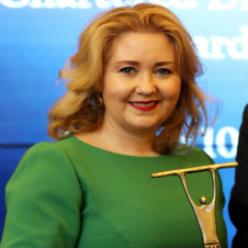 What were the key benefits to you of undertaking the IoD's Chartered Director Programme?
The programme formalised my knowledge in relation to the responsibilities and role of a non-executive director. The learnings I have gained I apply on a daily basis within my role as CEO of the Design & Crafts Council of Ireland as well as my board positions as Chairman of of Showcase Ireland Events Limited and as a Director of Kilkenny Carlow Education Training Board.
Although I already had a strong financial background - chartered accountant with an MBA from UCD Smurfit School - the Chartered Director Programme built on my existing skill base to equip me with all-round skills, knowledge and understanding essential for successfully directing an organisation from a strategic perspective.
What advice would you give to people who are considering taking the programme next year?
If you are contemplating undertaking the course I would recommend that you just get started. It is structured in such a way that I felt it did not impinge on work commitments because it was very well planned out. The benefits from the networking dimension of the course cannot be overestimated – you have access to the experiences of 17/18 leaders across many sectors and types of organisations which provided me with invaluable insight and guidance.
What do you believe are the most pressing challenges that business leaders face today? And why?
I think the balance of ensuring compliance and performance is a key challenge - keeping up to date and compliant with corporate governance, business and employment legislation while trying to grow your business and motivate your team to perform and operate at consistently high levels.
What do you believe are the traits that are most lacking among business leaders today?
Being a leader means that you have responsibility to grow and develop your team members to be leaders. The foundation of this is trust and a leader builds trust by consistently exemplifying competence, connection and character.
In respect of your career to date, what are you most proud of?
I was very proud to lead Irish Design 2015 (ID2015). This was a landmark, year-long initiative which brought visibility to Ireland's vibrant design sector nationally and internationally. I was a key instigator and negotiator of this initiative, securing significant government funding during a recessionary period and delivering an 11 times return on investment to the Irish economy. My team and I supported and delivered over 500 events in Ireland and 150 events across the world through a programme which saw Irish design and designers being celebrated and promoted in order to drive job creation, grow exports and increase competitiveness. Thinking back over ID2015, I have a huge sense of pride for what my team have achieved over a short period of time while recognising we still have a lot more to do.