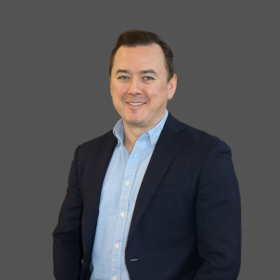 Since joining the IoD, how have you benefitted from your membership?
For myself and my company there have been many benefits. Firstly, the resources available on the website relating to governance and taxation allow teams to be kept up to date and make informed decisions. Personally, attending the morning and lunchtime events gives me key insights into important business and political issues.
Is there someone who has had a major impact on you as a leader? Why and how did this person impact your life?
I will always remember my first boss in Bank of Ireland, James Traynor. We had a fantastic relationship and worked very well together. James created an environment where people could succeed easily. My Dad, Brendan, influenced me the most. Working in a family business has its challenges, but Brendan allowed my brothers Barrie, Ryan, Marcus and me, the freedom to make decisions, make the odd mistake but always learn from it.
What are the greatest challenges you and your business have faced/are facing due to the COVID-19 crisis?
We scaled back our business as result of the initial impact of COVID-19. We retained a skeleton team to support essential business. The biggest challenge we face is reopening the business and getting our manufacturing facility operating efficiently, while ensuring our primary focus will be the safety of our fantastic team.
How has your business evolved and adapted as a result of the COVID-19 crisis?
We have taken the crisis and turned it into an opportunity to innovate and diversify. We just launched an AI Intelligent temperature monitoring system, called ITDS 200, which we hope will assist businesses reopen following this difficult period. This system can dynamically thermally screen 200 individuals in real time in a non-invasive and non-contact manner offering a cost-effective front-line defence in line with The Return to Work Safety Protocols. ITDS 200 allows the human traffic flow to be continuous – there is no need to stand in front of the camera, you merely walk past it.
The system captures the physical appearance of the individual as well as the IR image and it then models 150 individual temperature points to determine the individual's overall temperature with an accuracy of 0.3C. Other heat sources cannot trigger the system with false alarms as the software only models the temperatures around the captured human face. This has an enormous advantage in that it enables the system to work when individuals wear face masks, scarves and hats, and nuisance heat sources cannot cause false triggering.
Has working through the impact of the current crisis on your business made you review your business model? Will it change in the future?
Our model will change! During, this crisis while we are physically distancing, we have also become closer to our team members, customers, and suppliers with increased online communications. We see training and sales and marketing activities shifting more to these platforms, when in the past a large part of this would have been face to face.
Is there one key piece of learning/advice you would give to fellow business leaders on how to deal with the COVID-19 crisis?
For me, I think it is important to take the appropriate amount of time to evaluate information before making a decision. This situation is changing rapidly and so does the information we have available to us.
What is one characteristic that you believe every leader should possess?
In any role it's important to have a passion for what you do. If you can demonstrate it, I believe in turn it will galvanise those around you.
What advice would you offer to new or aspiring directors in Ireland?
Have the support of a good business coach. I have been working with Mike Hensey for over a year now and find it beneficial. Having another external perspective can be worthwhile.
(Published May 2020)