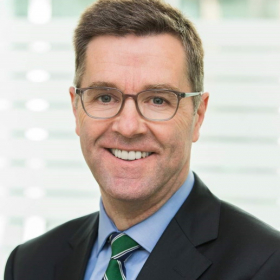 Ian Huggard is Founder and CEO of Etoile Advisory. After 30 years in capital markets working for investment banks in the US, UK and Ireland, in 2019 Ian decided to establish an advisory business to help companies incorporate sustainability factors into strategy, processes and communications.
What has been your career highlight to date?
Returning to Ireland in 2004 after 15 years in the US to help an Irish local broker double market share over the following four years by implementing processes and procedures I had seen succeed in other markets.
What qualities do you need to succeed in business?
Authenticity, self-belief and a passion for your purpose. Customers, employees and investors will buy from, work for and invest in people and companies that are aligned with their norms and values. Incorporating sustainability will allow you to build a business advantage based on trust.
Who or what are your main influences?
There have been different influencers over the various stages of my career, particularly some wonderful mentors I have been fortunate to work with. What influences me now is a desire to make a difference and contribute toward the achievement of the UN Sustainable Development Goals (SDGs).
What is the most challenging part of your role?
Getting boards and executive teams to move beyond viewing environmental, social and governance factors as simply risks and compliance issues. Then, get them to learn about and invest in the opportunities to perform and lead by completely integrating sustainability into strategy.
What, in your view, is the biggest challenge facing directors in Ireland today?
Information overload coupled with a lack of analysis about what is truly material to the entities they are appointed to govern. The Global Financial Crisis highlighted an inability to manage financial risk – today, are we on the cusp of failing to manage our environmental risks?
What, in your opinion, makes a great leader?
A genuine belief in the company purpose and its values. The bravery to appoint and support the right people in the right roles. The humility to listen and learn. An appreciation for the needs of all stakeholders. A deep and infectious desire to succeed.
What do you hope to gain from your membership of the IoD?
To influence board members to pursue the integration of sustainability in the strategy, processes and communications of the entities they govern so corporate Ireland can contribute toward the achievement of the UN SDGs.