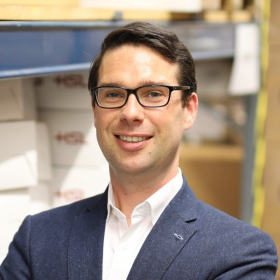 Since joining the IoD, how have you benefitted from your membership?
For me, personally, the IoD represents one of the most important networks of individuals in the country – senior business leaders who provide thought leadership and drive economic activity. Being a part of a network like this has not only given me access to an abundance of up-to-date technical data, it has also provided great insight into the alternative perspectives of businesspeople in relation to topical conversations like Brexit and Coronavirus.
Is there someone who has had a major impact on you as a leader? Why and how did this person impact your life?
I don't think there is just one person who has impacted me during my personal and professional development to date but there are a couple of people who come to mind. From a young age, it was my father who influenced my work ethic and determination to succeed. This has stuck with me to this day and I would still not ask someone else to do anything that I would not do myself.
Shortly after joining HSL, I spent some time with an executive performance coach, Alan Branagh who runs the Alchemists Forum. Working with Alan had a big influence on my thinking and approach and has ultimately influenced my mind-set and confidence as a business leader.
What are the greatest challenges you and your business have faced/are facing due to the COVID-19 crisis?
Having tackled a range of Brexit related issues just a few months' prior, COVID-19 initially appeared to be yet another hurdle that was out of our control, but one that would have a considerable impact on HSL. Whilst in the face of a crisis, we were able to turn what could have been perceived as a negative into a positive and do our bit in terms of sourcing and supplying high quality personal protective equipment (PPE) to our health services in need.
Leveraging our established global network of suppliers, we expanded our business to help the Health Services in the Republic of Ireland and Northern Ireland by sourcing over 13 million pieces of PPE to aid the fight against the coronavirus pandemic.
This brought with it several challenges that we had to quickly overcome, including ensuring we sourced the highest quality product; ensuring the product arrived on time; issues surrounding freight impacting margins where fixed prices were in place; and, of course, having to rely on imports for this equipment.
How has your business evolved and adapted as a result of the COVID-19 crisis?
As a result of the COVID-19 crisis HSL has diversified its product offering. This has been done through the utilisation of our network of established global suppliers to identify a quality manufacturer of PPE and then developing a relationship with this supplier to secure product for Ireland and Northern Ireland. In addition, through our understanding of what was important to the user (safety and comfort), we started to assemble face shields – this is the first time that we have manufactured something as HSL.
Has working through the impact of the current crisis on your business made you review your business model? Will it change in the future?
Working through the current pandemic has strengthened HSL's ability to respond and act quickly and efficiently in times of crisis. We have added a new division in a business which is already greatly diversified and at the same time have created a possible export potential for the business going forward.
Is there one key piece of learning/advice you would give to fellow business leaders on how to deal with the COVID-19 crisis?
The one piece of advice that I would give to fellow business leaders is to ensure you have a flexible business model as this will enable you to adapt your business in the event of a crisis or other sudden changes in your market. Having a strong team around you who can also be flexible only strengthens your position – I have been fortunate to have such a team at HSL.
What is one characteristic that you believe every leader should possess?
Every business leader should have an open mind. It is virtually impossible to achieve success in business if you are unwilling to accept alternative ideas, opinions and advice from others.
What advice would you offer to new or aspiring directors in Ireland?
I would say that communication is key, and it is also important to ensure that you are aware of what is going on in your business from the bottom up.
(Published July 2020)