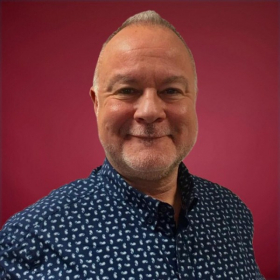 What has been your career highlight to date?
Enduring throughout the recession when the Construction industry was gripped with failing companies in a time of threat and huge uncertainty. It was an invaluable experience, that I would not choose to repeat, but I am here today still trading natural stone for public realm projects, driving efficiencies and evolving ethical trade across the supply chain.
What qualities do you need to succeed in business?
I have a passionate belief that business achievement comes from thoughtful discussions with fellow directors / staff / manufacturing sites / logistic providers / customers and prospects. I believe that if we stop engaging then we lose commercially. I role model on being a servant leader where my sole care is about serving stake holders: I ensure all share in my sense of mission which fuels the day to day business activity. Enriching all stake holders I spend time focused on building and creating value to generate a lasting significance for all.
Who or what are your main influences?
Historically I am fortunate enough to have worked for Henk Berendsen the former MD of the Koninklijke Frans Maas Groep who taught me so much commercially between 1997 and 2004. I owe a lot of my supply chain skill-set to Henk.
On a daily basis I take huge inspiration from my family, friends and absolutely brilliant colleagues in Hardscape and across our diverse supply chain as we evolve our lives positively as a team.
What is the most challenging part of your role?
Delivering natural stone on time to the correct specification for large scale public realm projects is always challenging and global events can always hamper the supply chain, from diving rates of exchange to incremental weather to material availability to communication (mis) understanding, it is always challenging but it is what I do brilliantly and I prefer to let the projects speak for themselves, for example, The Irish Life Centre in Dublin or Waterford Public Realm or The Lagan Weir Bridge & City Quays in Belfast.
What, in your view, is the biggest challenge facing directors in Ireland today?
As the economy drives forward I believe we all should be cautious and remember the recession and that dire time. None of us can ever again be complacent or permit such irregularity to take place again.
Being from Northern Ireland I also see BREXIT as an immediate risk and challenge that if unresolved could see horrendous costs and documented bureaucracy added to Companies engaged in cross-border operations to the North or with Britain.
The integrity of the Good Friday Agreement must be maintained from any BREXIT.
What, in your opinion, makes a great leader?
I could write or present for hours on this topic but for me top of the characteristics must be; honesty, integrity and ethics. As an effective leader we must confidently ooze our respective passions in a committed, clearly communicated way that inspires all stake holders with us whether they are staff, a supplier or a client. Again, the Servant Role Model Leader springs to mind.
What do you hope to gain from your membership with the IoD?
To maintain learning on the obligations and duties of being a director and stay in touch with fellow colleagues and professionals throughout Ireland.