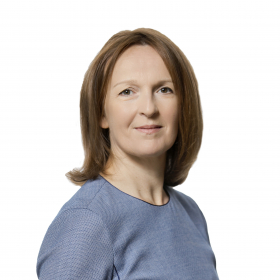 Why did you decide to join the IoD?
When I was appointed to the role of Managing Director of Capita Ireland in 2022, I joined IoD Ireland for access to knowledge, advice, and guidance on corporate governance as I undertook my directorship responsibilities. I also saw the IoD as an opportunity to broaden my professional network and connect with other business leaders dealing with similar issues and learn from others' experiences.
What do you particularly value from your IoD membership?
I really enjoy IoD Ireland events where you get the opportunity to hear the latest thinking on emerging business issues and regulatory changes. The diversity of membership means that you get to hear many different perspectives, as you mull over the business implications of the changing landscape with other leaders. I always leave the events with some important nuggets of information.
What is the most important lesson, from your personal or business life, that has guided you the most in being a business leader?
As a leader, the ability to be open and responsive to feedback is critical for success. Seeking out feedback, from staff and customers alike, allows you to learn what's working, what's not, and what you can improve. And when you are seen to act on feedback, you gain people's respect and trust. As leaders we make many decisions with wide-reaching implications. If you're closed off to feedback on your actions and decisions, you can't fully learn from your mistakes or successes. It takes courage to ask for feedback, but creating a safe environment where feedback is sought and given helps foster a positive learning culture in your organisation.
Is there someone who has had a major impact on you as a leader? Why and how did this person impact your life?
In the very early stages of my career journey in Hewlett Packard, I was lucky to work for a wonderful female manager, Debbie Beech, who provided guiderails to a very inexperienced, yet ambitious young marketing graduate trying to navigate her early career in a large corporation. Debbie was a role model, mentor, and sponsor, all rolled into one, and I experienced first-hand the positive impact a leader can have when they invest time in supporting others to realise their ambitions. I try to pay it forward and am always happy to assist any employee, particularly those starting out in their working life, to seek out new and interesting career moves that stretch their capabilities and help them to gain in confidence.
What is the one characteristic that you believe every leader should have?
To be an effective leader is to be an effective communicator. As a leader of people, the ability to be able to communicate effectively with your team in a way that feels genuine and authentic is powerful. In good times or bad, how a leader manages their communication can have such a positive impact on how people deal with the message in that moment. And the best communicators are those leaders that are actively listening to their team to be able to tailor their messages in a way that resonates.
What are the biggest business challenges or/and opportunities that you have seen over your career to date? And how did you help to overcome or/and optimise these?
I've faced many challenges in my career over the last three decades; too many to remember them all, and I've probably sought them out if I'm honest. I was given career advice that the way to stand out in a corporation is to run towards the fire, and while it's certainly not the easiest path, I think it's the most rewarding one. There are the commercial pressures that come with P&L ownership in highly competitive markets. Growing revenue in a market downturn has featured a couple of times in my career so far. The need to drive change to deliver better outcomes is a constant challenge. And removing costs out of a business while trying to avoid harming the business is a prevailing challenge that most business leaders have had to tackle.
But whatever the challenge, I've learned to approach them all in a fairly similar way. I take time to understand the challenge, which is rarely as it first seems. It's important to hear from a variety of people to get to the core issue, and not rush to judgement. Bringing the right team together is critical, to firstly determine the solution and then to execute a plan. And ensuring that everyone in the team is clear on their responsibilities and accountabilities from the start is a big contributor to success.
Communication is an important part of the equation. There has to be honesty about the scale of the challenge and what has to happen, but you have to instil a sense of belief in getting to the ultimate destination early on. And there must be regular, open, and honest communication for team cohesion and functional alignment. As a leader, you must maintain a high degree of positivity and not let setbacks distract. Things won't always go right, so it helps to acknowledge what's not working and adjust the plan, but you keep the team looking ahead. You have to celebrate the achievements, big and small, along the way to maintain team moral. My experience has been that the most challenging projects teach people the most, help them to advance their career faster, and provides the greater sense of professional achievement.
How do you think business leaders can best prepare for the future?
Step outside your organisation and spend as much time as you can talking to your customers. Listen to what they're telling you about their challenges and needs. You will find out what more you can do to delight them, and where you need to take your organisation to remain relevant to them in the future. It will help you to see your organisation from the outside in, which is the more relevant vantage point for a leader of any organisation. Work hard to maintain an external perspective because being too internally focused will cause you to miss where markets, customers, and competitors are moving to.
What advice would you offer to new or aspiring directors in Ireland?
Work on your elevator pitch. The process of crafting your pitch will force you to examine what you're good at, and what value you could bring to an organisation based on your experience and your area of specialism. The most likely route to your first non-executive directorship is joining the board of a charity or not for profit in a voluntary capacity, so use your network to help identify these opportunities. And it's worth considering certification to increase your chances of finding a directorship.