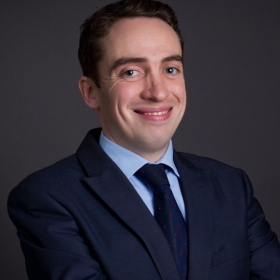 What has been your career highlight to date?
Two come to mind. Firstly, qualifying as a solicitor. It's a long road of study but totally worth it. My parents' pride in my achievement was very gratifying and memorable.
Secondly, a stand-out career highlight that comes to mind was closing out recently on a multi-million euro sale by a long-standing client of their business. Having advised them over a number of years, it was exciting to be able to assist them in growing the business to get to the point where they could sell it for a life changing sum.
What qualities do you need to succeed in business?
Optimism, determination and a thick skin!
Who or what are your main influences?
My father is an inspiring figure for me. He successfully grew and managed his own business over 45 years and through two severe recessions.
What is the most challenging part of your role?
Time management is always a challenge but thankfully that's because my expertise is in demand.
And, of course balancing work commitments with making enough personal time to relax with loved ones and friends is important, not forgetting sports and getting out into the fresh air.
What, in your view, is the biggest challenge facing directors in Ireland today?
For those companies who are heavily reliant on trade with the U.K. the fallout from Brexit will be tough. Establishing which contracts need to be re-negotiated or amended as a result must be a priority. My advice is look to territory clauses and make sure you aren't going to lose territorial rights to the U.K. market after it leaves the EU.
In 2019 and beyond, good corporate governance remains a priority for boards with ever increasing scrutiny.
What, in your opinion, makes a great leader?
Inclusive decisiveness. A great leader will consult with anyone and everyone who can add value but will be able to absorb different viewpoints and decide on a course of action and proceed without hesitation. Empathy is very important in a leader. The ability to communicate tough decisions in an empathetic way breeds loyalty and fosters collaboration even through hard times.
What do you hope to gain from your membership with the IoD?
I'm looking forward to meeting people in senior roles from a wide range of sectors and hearing their diverse range of perspectives on business and leadership. I enjoy the morning and lunchtime events which are always insightful (once I have managed my time well enough to facilitate my attendance!)
(Published May 2019)