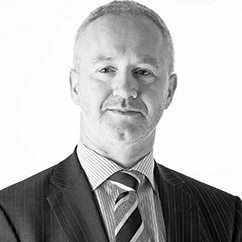 What is your current role and what does it involve?
I am the CEO of Fexco's managed business solutions and outsourcing division and
responsible for the group IT division also. My role is to develop the strategy, review and adjust as necessary and execute the business plan. We work in a number of verticals and keeping up to speed with industry developments is a key part of what is required in the management of the business unit.
Do you have any non-executive roles?
Yes, as part of some personal investments I have a couple of roles. These tend to be in the software and product areas as I enjoy entrepreneurship and assisting in fast mobilisation. It's also an opportunity to contribute from previous experiences and mentor teams towards success.
Tell us about your career background and some of the milestones along the way
Initially, I had planned to be an accountant but switched to IT in the late 1980s, which turned out to be a great stepping stone for me. I held a number of management roles in Eircom in the IT space before moving to Eircell just as the mobile industry exploded. This was a key moment for me as the pace and dynamism was incredible and I made some great friends there also.
Launching 11811 for Eircom was another key milestone and I learned quite a lot about the value of marketing and consumer behaviour. My move to Conduit and the experiences I gained there from growth, refinancing and acquisition provided me with some great insights into business and diversity. I was fortunate to work in a number of countries and that certainly exposed me to many different challenges and opportunities.
What are the main skills or attributes that have helped you to get to your current position?
I enjoy working with and developing people and that has certainly helped me succeed in my career. I am known for a 'let's just do it' approach once a decision has been made. I take a 'disruptor' approach and challenge the norms regularly. Delivering on time is something that I constantly drive to achieve and I've always adopted the 80:20 rule. I am a strong believer in business process improvement (BPI) as part of standard management behaviour. I believe that physical fitness is critical to mental fitness and the ability to deal with stress and I attribute my high energy levels to this.
Download the below PDF to read the full interview featured in Irish Director Magazine.