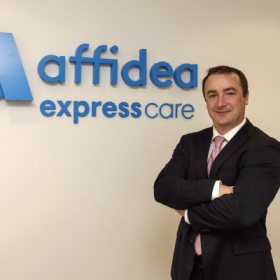 What has been your career highlight to date?
Being appointed CEO of Affidea Ireland at 37 years of age is one, but in terms of accomplishment it was the operational and cultural transformation of a company I was involved with in Canada. We went from the worst performing business unit in the group to the best in under 2 years. We reengaged with our employees and financial success was the result.
What qualities do you need to succeed in business?
Passion, energy and the ability to communicate effectively to a diverse audience. I also think credibility is key. Ultimately, the ability to deliver value is a key component of success.
Who or what are your main influences?
I have been fortunate to have worked under and learnt from some great managers and CEOs. I would like to think that each of them has in some way has had an influence on my management style and also my development.
What is the most challenging part of your role?
As with any company undergoing significant growth and change, it is ensuring people are remaining aligned to the vision. While the emergent strategy may be slightly different to the intended strategy due to market factors, it is important to stay the course whilst still retaining commercial & operational agility. Healthcare in Ireland also has nuances which can cause delays and inefficiencies. Our public health service delivery unfortunately is very political and when politics is dictating operational decisions this makes reform and improvement of the service very difficult.
What, in your view, is the biggest challenge facing directors in Ireland today?
Trying to stay ahead of the ever-changing regulatory landscape. There is a lot more focus on accountability for directors in Ireland and rightly so, however given how "time poor" we have all become, it is increasingly difficult for an individual to be intimately aware of all that is expected of you and ultimately what you have responsibility for. This is where the importance of a strong, well-functioning team cannot be over emphasised. The pace and scale of change is another significant challenge. Directors now need to be accomplished change practitioners.
What, in your opinion, makes a great leader?
A great leader is someone who sees their role as a supporter of employees. In my mind, the best way to approach it is asking employees what it is they want to achieve and asking how they can help them achieve that. Great leaders also create and communicate the company vision in a clear and understandable way.
What do you hope to gain from your membership with the IoD?
With reference to the challenges facing directors in Ireland, the IOD can provide that platform for continuous learning and development to assist directors in meeting our obligations. I also feel that the opportunity to network and connect with other leaders that may have faced similar challenges you are currently facing, but more importantly have found a solution is where the network from IOD becomes very powerful.