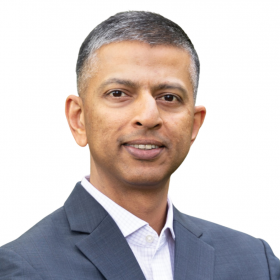 What has been your career highlight to date?
Across my many experiences of setting up new teams and practices at PayPal, the one that stands out is when I led the efforts to set up PayPal's Global Analytics Centre of Excellence in India. As it usually happens with a company like PayPal, the goals were ambitious and so was the timeline. Through a concentrated, process-driven, cross-functional effort, we hired and onboarded over 60 top talent employees in under five months, and transitioned analytics services over from an outsourced vendor during the same time, without any significant operational impact to the internal customers of analytics.
What qualities do you think a business leader should have to succeed in business?
A business leader is tasked with accomplishing their business goals through their people. To do so, I believe the top three qualities that are needed are:
Empathy, to create a culture that values its people as humans and not as resources.
Common Sense, to navigate the organisation towards its long-term goals through a constantly evolving eco-system.
Humility, to recognise their own shortcomings, hire the best talent, and give them space to thrive.
What is the most important lesson, from your personal or business life, that has guided you the most in being a business leader?
Personal integrity and consistency. Business cycles are unpredictable, but a leader's behaviour should not be. Employees hear their leaders' words and then correlate it to their leaders' actions. A leader who says one thing and does another very quickly loses the respect of their people. Leaders with high personal integrity and consistency attract and retain the best talent, and are the most resilient through difficult times. To me, personal integrity is more important than short-term business results.
How do you think business leaders can best prepare for the future?
Through a judicious mix of curiosity, paranoia, and thoughtfulness.
Curiosity to constantly seek knowledge from diverse sources and stay abreast of developments in the broader world and not just in their immediate environment.
Paranoia to identify early the next technological/legal/regulatory/environmental disruption that can completely transform, or completely wipe out the current business model.
Thoughtfulness to delve deeper beyond the headlines to develop an informed view that can be translated into action.
What, in your opinion, makes a great leader?
The one quality that separates great leaders from good leaders is resilience. Most companies and leaders do well in buoyant economic times. Great leaders realise that anyone can deliver success in good times and strive to build an organisation that can survive the test of the bad times. They build an organisation that stays true to its mission, its employees, its customers, and its shareholders, through good times and bad.
What do you value the most from your IoD membership to date?
IoD is a wonderfully diverse organisation that allows me to meet people across industries and functions, to educate myself from their diverse experiences, and to find opportunities to drive change, not only in business, but also in society. Being new to Ireland, I find it especially valuable to be connected to this network of accomplished and passionate business leaders.
What do you hope to gain from your membership with the IoD?
At a personal level, I hope to learn a lot more about the social and business environment in Ireland, and to find ways that I can leverage my life experiences in helping drive social change, especially through influencing government policy and direction. At a professional level, I have a keen interest in businesses that leverage technology to solve small and big problems, especially in the area of financial inclusion, literacy, and empowerment, and hope to have an opportunity to be associated with some of them.